04/01/2013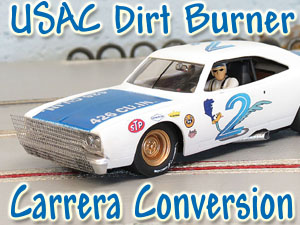 The names Norm Nelson and Roger McCluskey may not mean anything to some of you, but for others who followed these great drivers they are legends. The USAC Stock Car Series is likely one of the best series of oval racing we have ever had and this duo were household names in it. No, they did not get a lot of air time on TV. and they were not famous for going for 3 wide at tracks like Talladega.
Although they had their fair share of great looking cars and memorable action on paved tracks, it was at short tracks like Springfield, IL and Knoxville, IA where they traded paint and a fair amount of dirt. They might have started out looking straight and shiny, but a lot of times they ended up looking as tough and rough as the drivers who drove them.
Some of these cars were "hand me downs" from higher profile Cup teams that in the hands of the right mechanics and drivers were reborn to see more checkered flags.

This Carrera model represents this spirit. Above is a nice shot of Roger battling Don White (outside). This is just the kind of project I like.
Of course the scale enthusiast will notice that this car is not the correct year for the above reference. That is fine because I am not attempting a perfect scale model. My goal was to take one of these cool Carrera Mopars and capture the look and feel of the cars that raced back then.
I started with a Superbird model. This Dick Bown car was released last year and with just a little help it could be turned into a great Saturday Night Star :) It was used because Carrera has not made a race version Road Runner in a long time and they are getting ridiculous prices. With a simple front end change along with a little putty to fill in the holes where the wing used to be, we can make these cars work.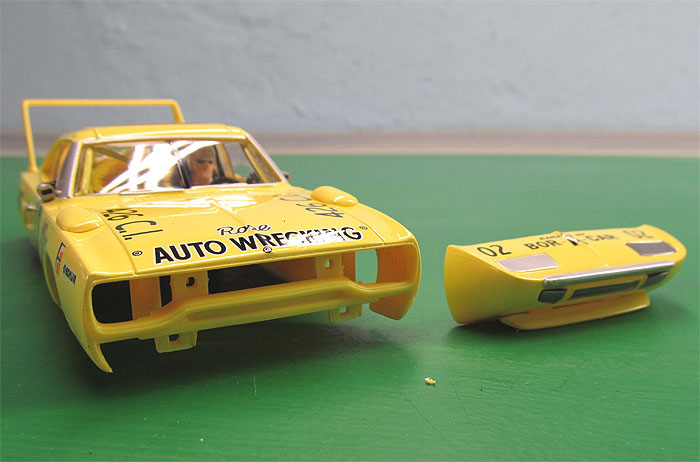 On the Plymouth model, all you need to do is remove the front nose piece and replace it with a stock grill and bumper to bring is back to Road Runner form.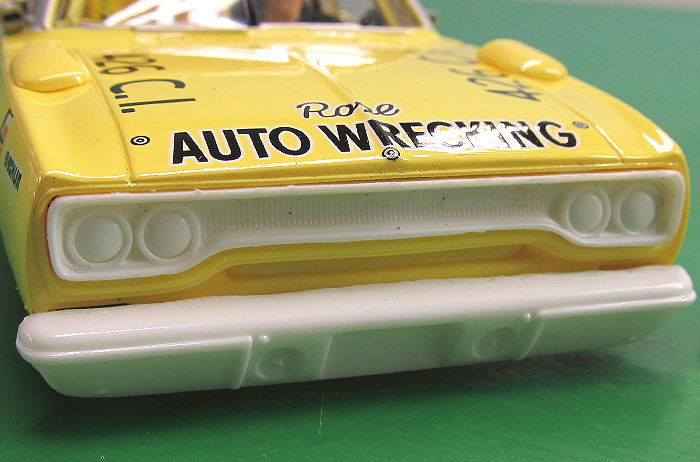 I am fortunate to know a couple of the best resin casters in our hobby. These were molded using the original parts from early release Road Runners and they fit perfectly.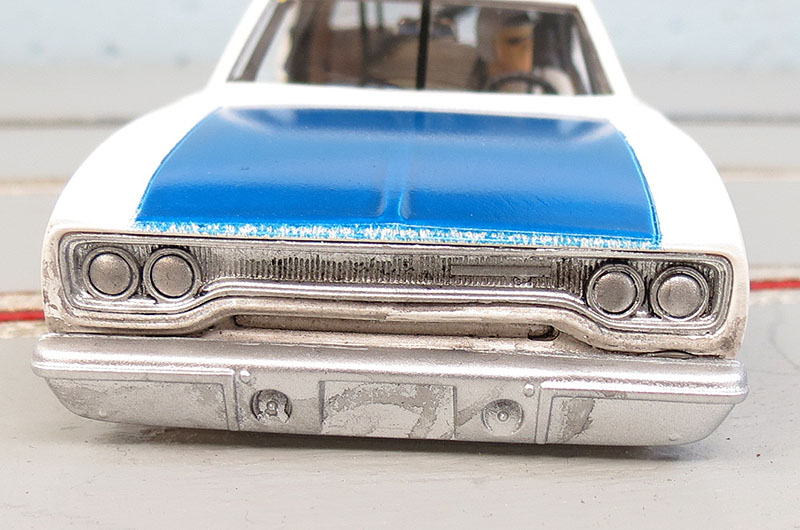 I applied some watered down black acrylic with a brush. The neat thing about these cars are the imperfections. Rarely were they perfect in the paint/body departments, especially mid way through a hard race. I left the blue edge faded and added some "dents" here and there on the body with my Dremel sander.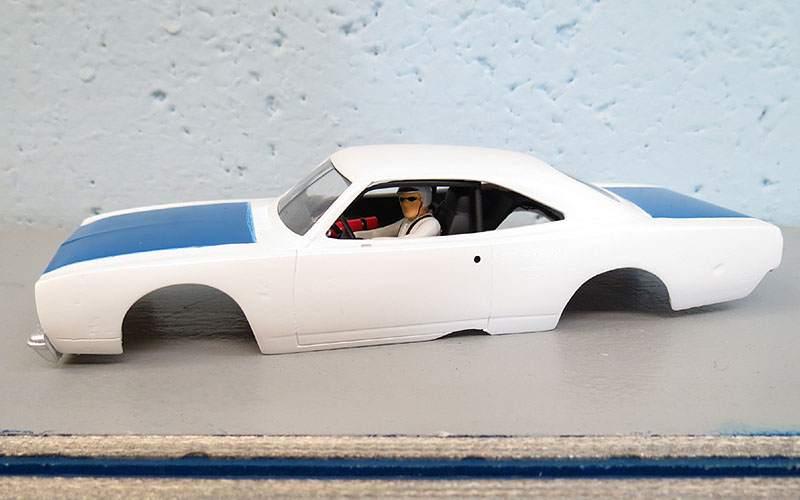 I sanded off most small details and even the side scallop to camouflage the car even more. Opened the wheel wells slightly and lowered the rear of the car by sanding the body mount posts flush with the tabs. This gives it a decent amount of rake, but not overdone. Paint is Krylon flat white over the yellow, followed by gloss white. Krylon True Blue for the hood and trunk.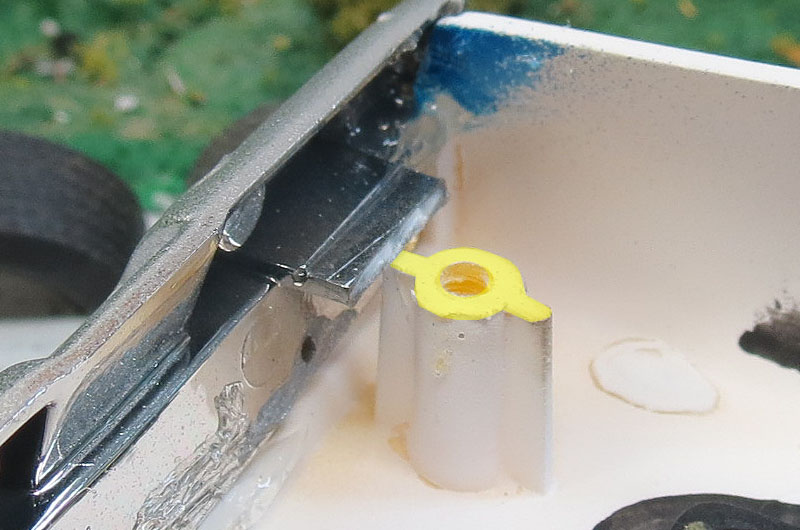 This shows where I sand. Basically flush with the reinforcement ribs of the post. I use my Dremel wheel but finish off the top with a small flat file.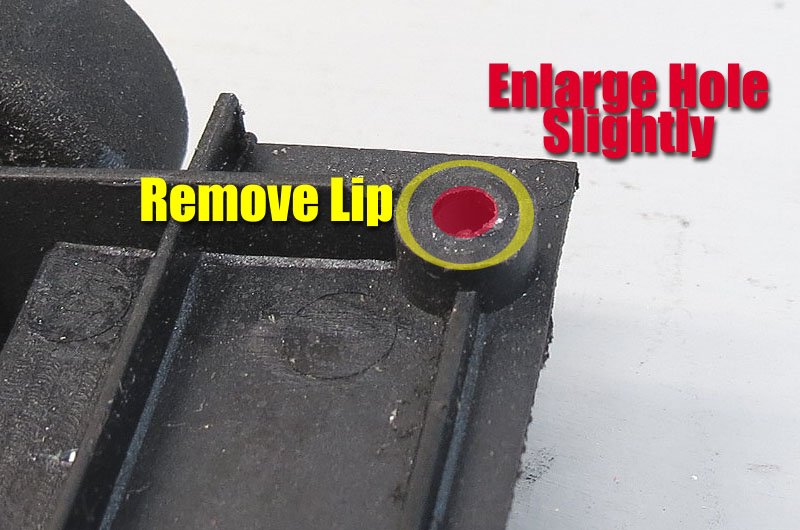 To help with body float, the entire outside edge of the chassis is sanded. Then the chassis to body mounts are sanded. I remove the lip or "cup" around the outside and then use a rat tail file and slightly enlarge the holes. This allows for good float and helps minimize any binding.
Do you have to go through all this? No. This is just my way of doing it that gives decent results running non-magnet on our wood track.
You have a choice when lowering the car: Use the original interior or make a new one.
Although the stock interior is a half tray, there is not much room to lower the body without contact. I have done it both ways and in this car I used the original interior. You will need to cut an access hole in the interior and part of the driver seat in order for the motor to clear.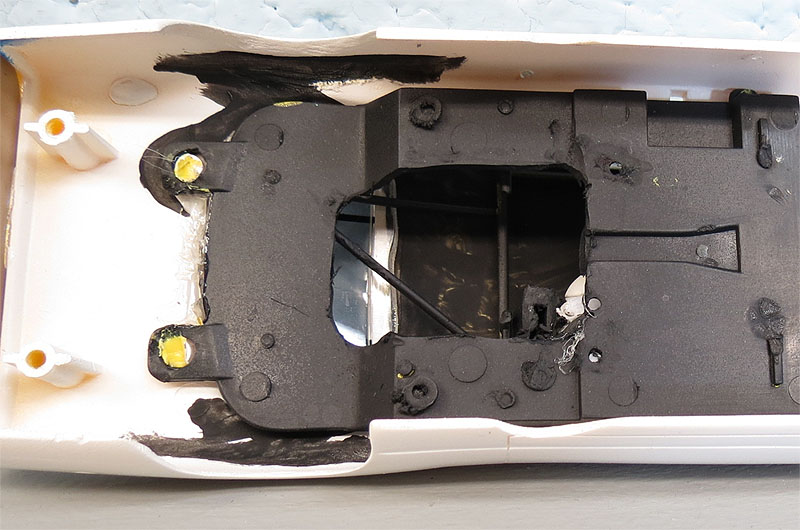 Not pretty, but effective. Once the model is assembled you can hardly notice anything, especially if you paint the top of the motor flat black.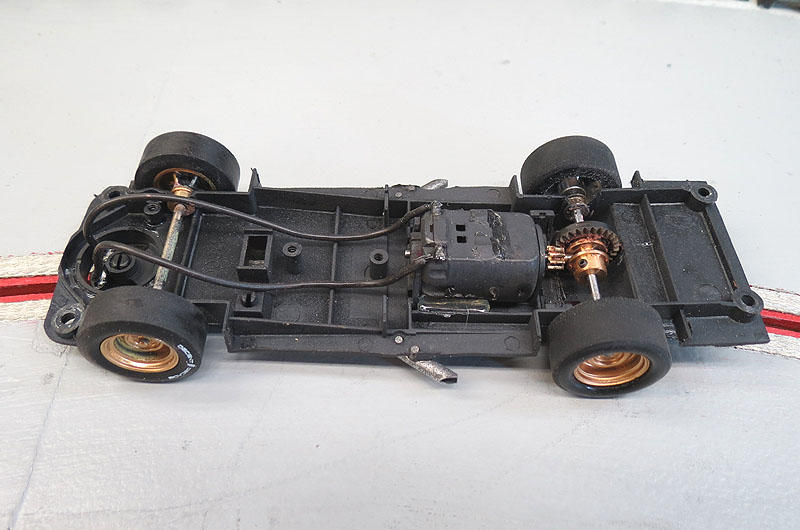 Front wheels & motor is stock. Rear running gear changed out to SCC C.B. Design 17x8 classic steel wheels.
Slot it 27 tooth crown, 9 tooth pinion. Paul Gage XPG tires finish it off. B-Nova guide system up front.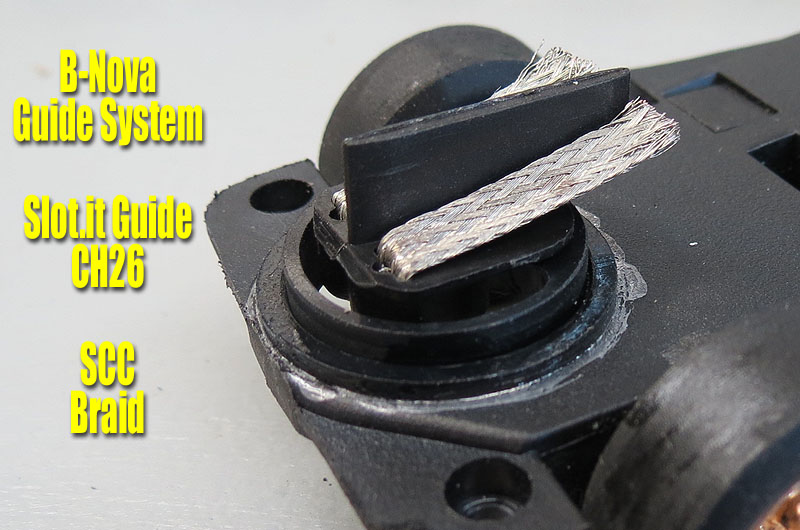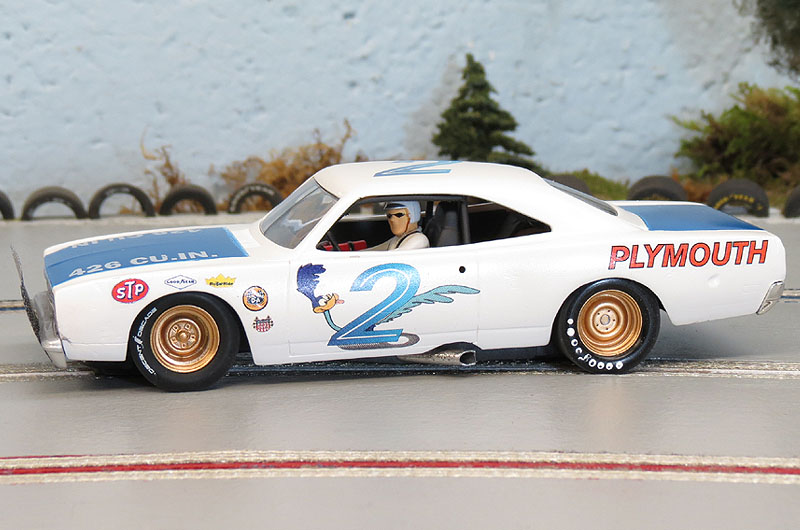 Decals were made by Mark Thomas of MT Resins and Derby City speedway fame. They were already clear coated on the sheet so I just buffed the car with a coat of wax after they were applied and dry. He did a great job on them too. Very strong and have solid color. I am making some of my own for the next installment as well.
I added a simple plastic screen up front. No braces. Why? Because it will just break. This is not a car for looking at on the shelf. it is going to race in the series here and it WILL see contact. With that in mind I glued the screen directly to the bumper.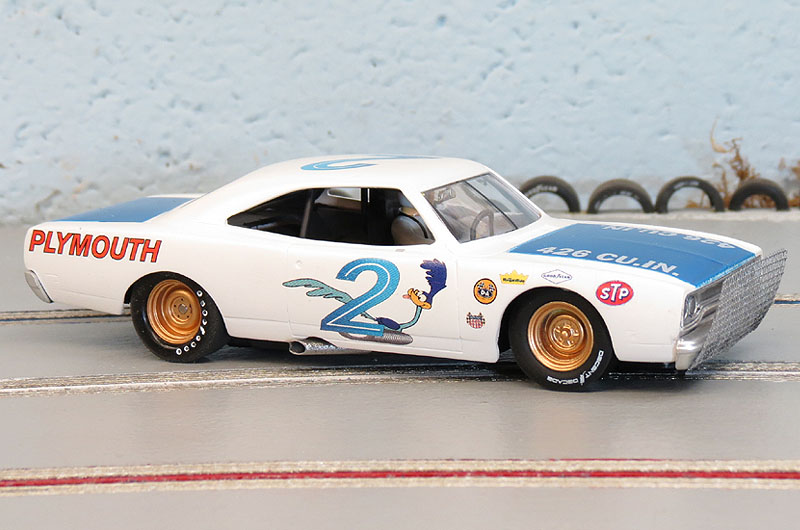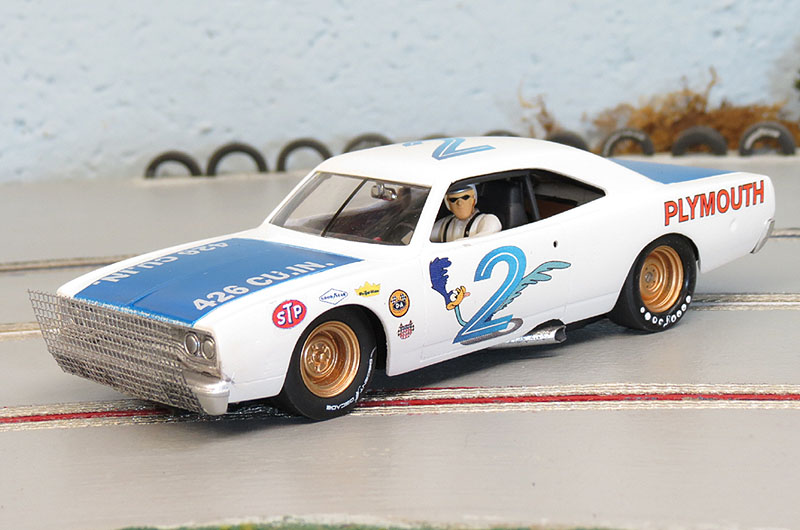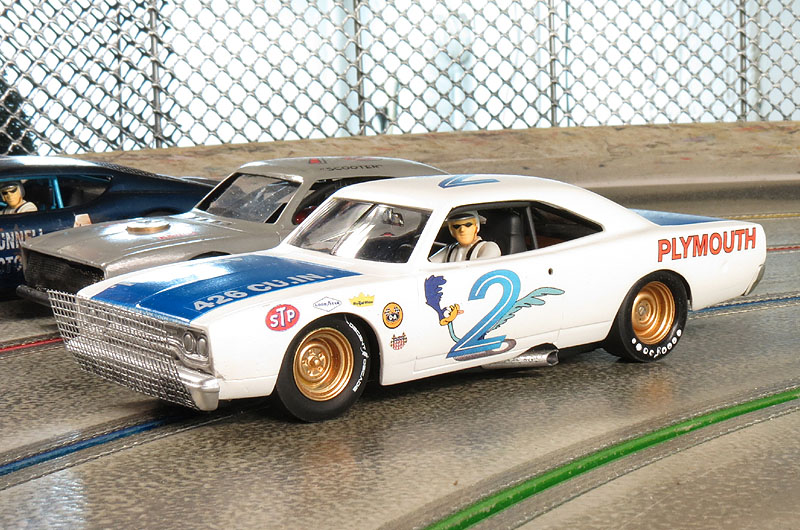 This series is one of my favorites in 1/32nd scale slot cars. A time when the cars had as much identity as the drivers. Instead of the high banks of Daytona, my goal is to recreate the cars and action that were seen on short tracks. The sheet metal is a little out of alignment and the paint is a little scuffed. Good. That matches my skill level in the paint department perfectly.
- Harry
As always, contact me about this article or the hobby in general.