06/04/2014
Carrera 1/24th Scale Digital - Ferrari 512s Berlinetta - Brands Hatch 1970 #23798
It has been a long time since I took a look at a Carrera 1/24th scale model, or perhaps I should say a long time since I sat down to write about one. Truth be told I have been racing them quite often lately. But in years past we seemed to ignore them, due mostly to our track size not being ideal and that there are not many racers that visit here who collect them. In the past year things have changed thanks to a few close friends and the release of perhaps my favorite classic Ferrari ever: The 512s Berlinetta.
Click here to read about this famous car.
Newcomer Notes
These cars require at least 18 volts to run optimally.
Standard 1/32nd scale or lower transformers will not have enough voltage to make these cars operate properly.
ALL new Carrera 1/24 models will be digital ONLY.
To operate in analog mode you will need to quickly program them. Here is a video below that shows you how.
DIGITAL to ANALOG CONVERSION VIDEO
Courtesy of Carrera USA
This video shows 1/32nd scale but the process is the same.
For those who cannot load the video:
1. Move the polarity switch to the forward position.
2. Place model on track with rear wheels in the air.
3. Pull the trigger on your controller 3 times.
On the 3rd time you should see the wheels turn. You are done.
You can now also move the polarity switch to change the direction of the model.
Before we get into the heart of this car I want to clear the air. Instead of complaining about the motor and the weight of the model that some people like to do, you will hear the opposite. Why?
Because I like them the way they are. I feel these complaints are not completely fair and was one of those who did. Comparing the Digital 124 line of Carrera models to commercial track "1/24th scale models" or anything else for that matter is simply a waste of time to me. The old term "apples & oranges" come to mind. I do not feel the models need to run at light speed or act like lightweight 1/32nd scale models. These are models that are designed specifically to run on Carrera track using the 18 volts that the Digital 124 sets have in them. For what they are designed for they work and they work very well.
Now that we have this out of the way let us talk about this latest release.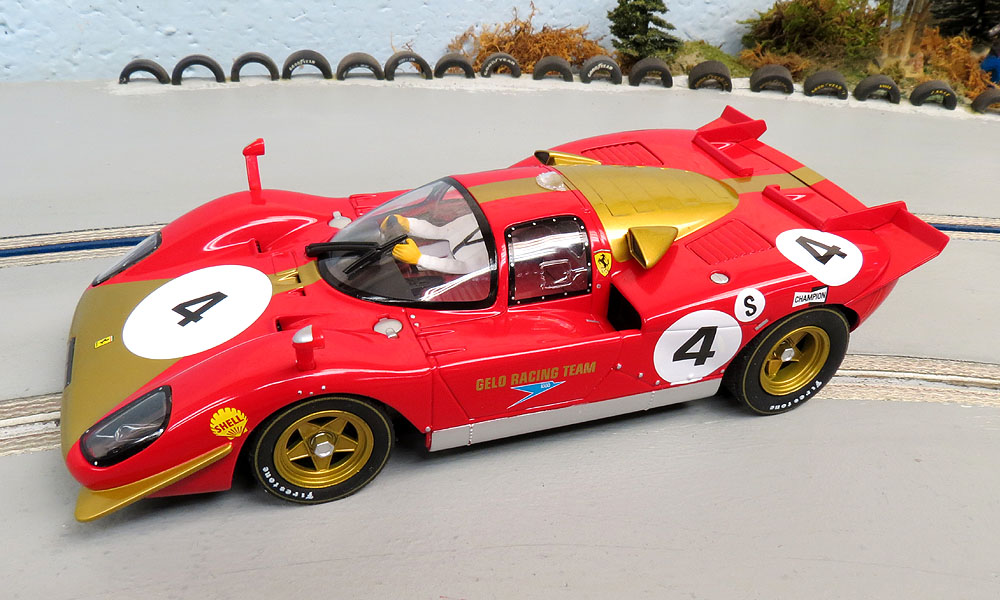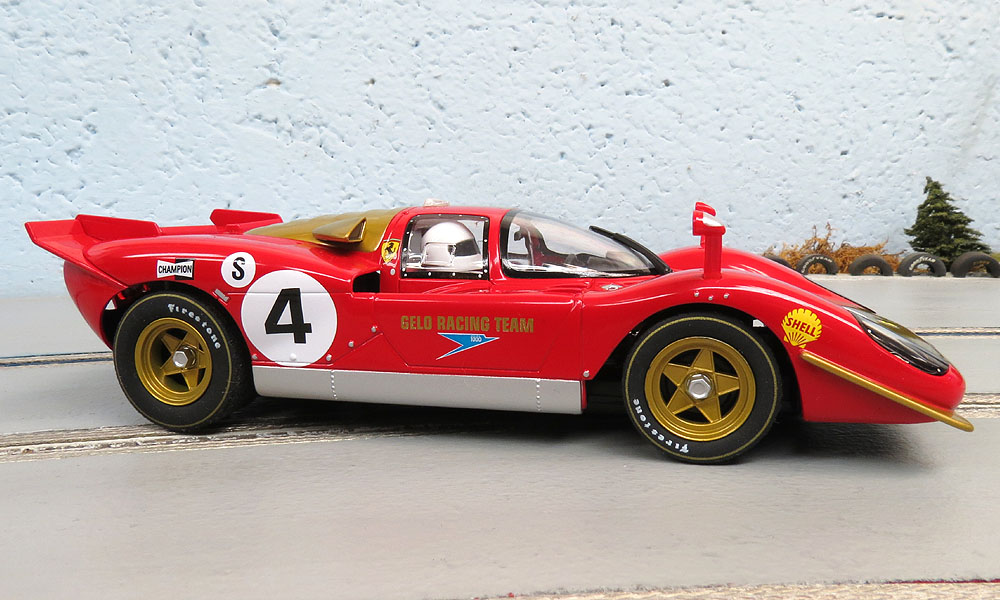 This slot car is simply stunning to me. Is it a perfect scale replica of this famous car? No. If you are a die hard classic Ferrari fan then you don't even need to research it. You can see some of the liberties taken. If Carrera did not do the job well enough then you will simply pass it up.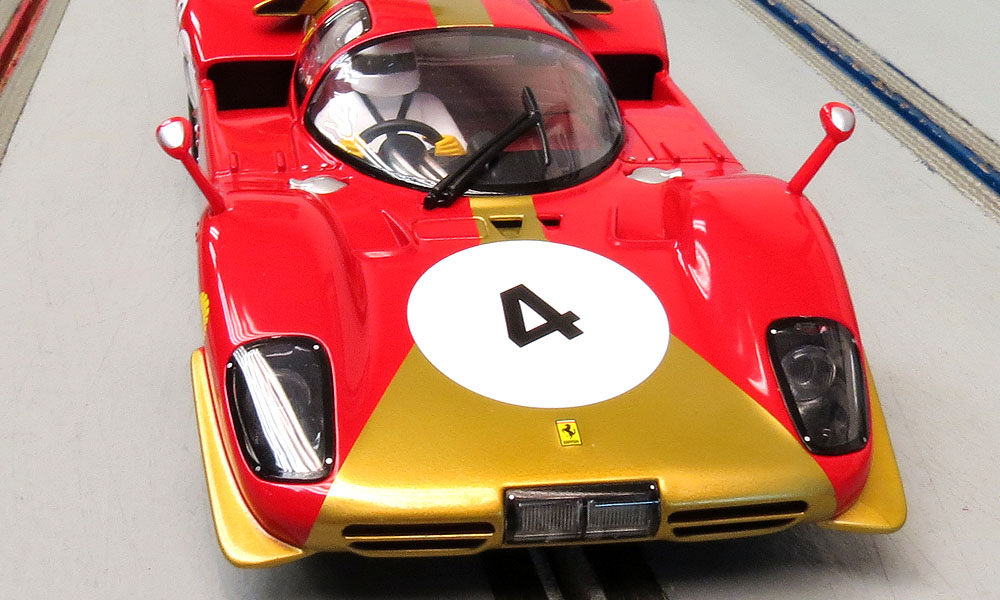 When I see this car on the track there is no mistaking what it is and that usually is enough for my taste. It does not hurt matters that the paint and overall finish are as good as it gets in our hobby.
There is no denying that the sheer size increases the appeal. I took this model with me to my other job and responses were as I expected. In a classroom of 22 students, more than half gathered around it repeating words like "Wow" quite often.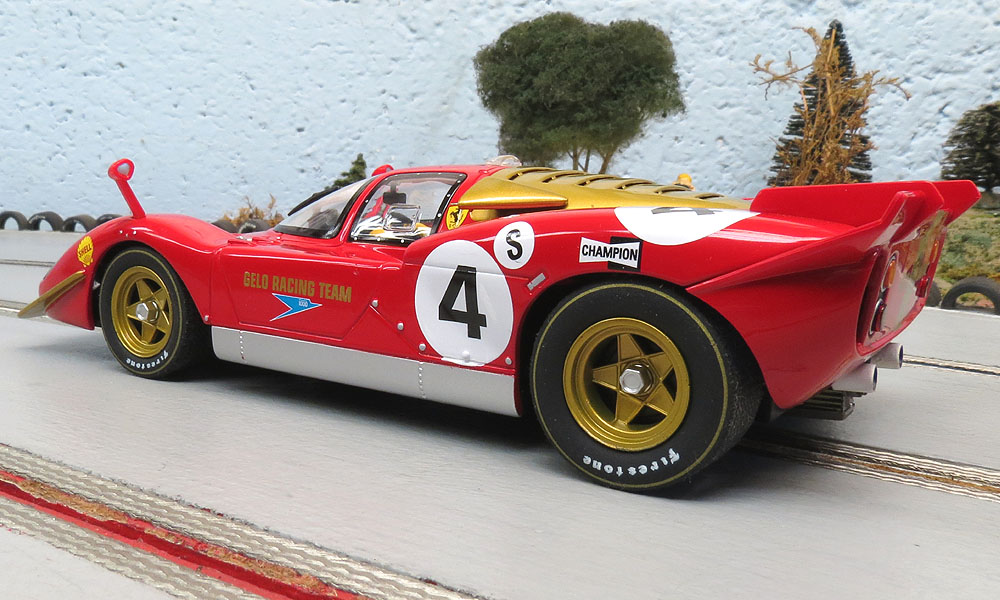 And I have to admit that was one of the words I said as well. This model had me smiling the minute I unwrapped it and it is the 3rd one I have. Seems every one released has this effect on me.
The Inside Story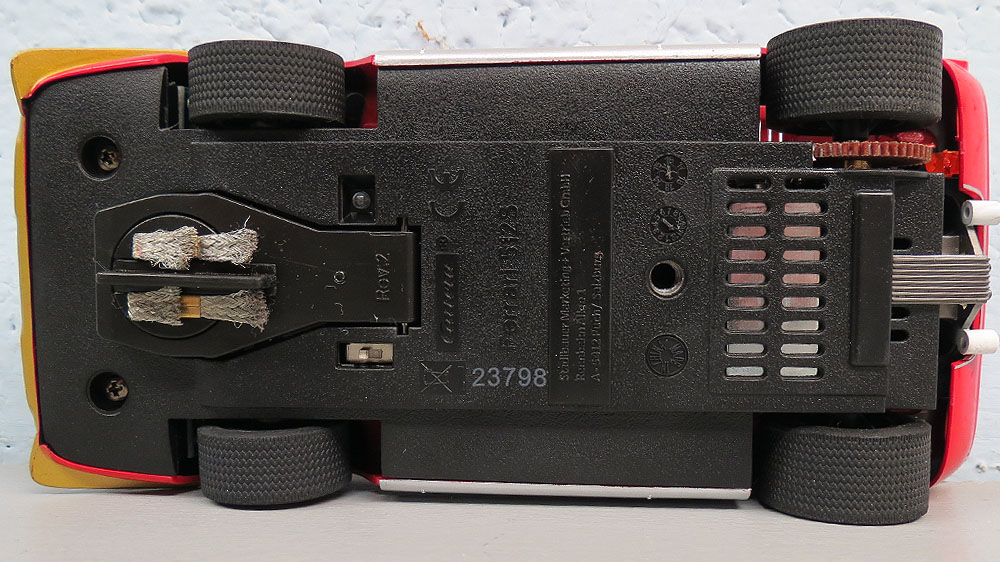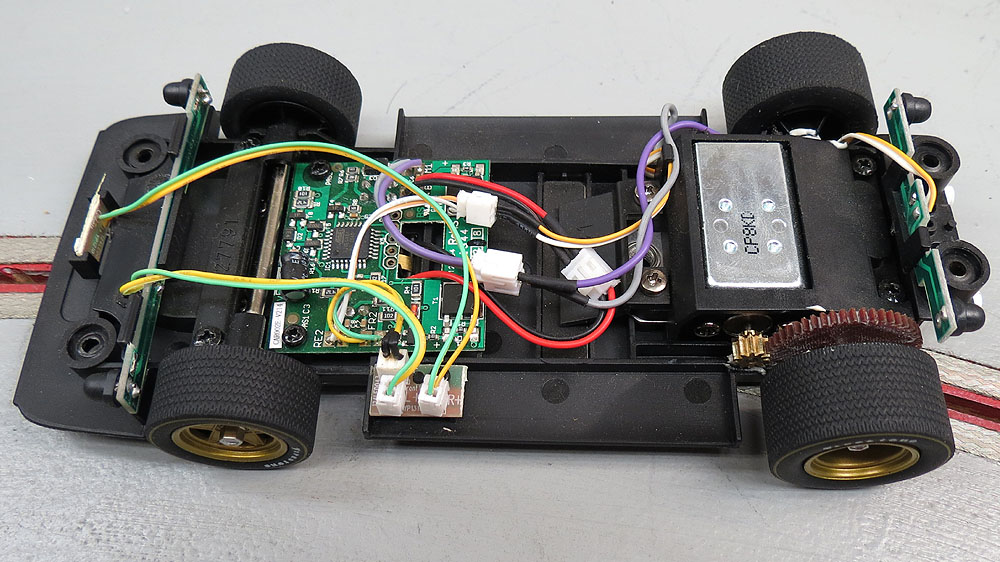 Mechanically these models have not changed aside from chassis shape to match the model. A 10 tooth pinion drives the 50 tooth spur gear and the electronics along with magnets are the same. You can read more here and here about the technical side of the models.
New Shoes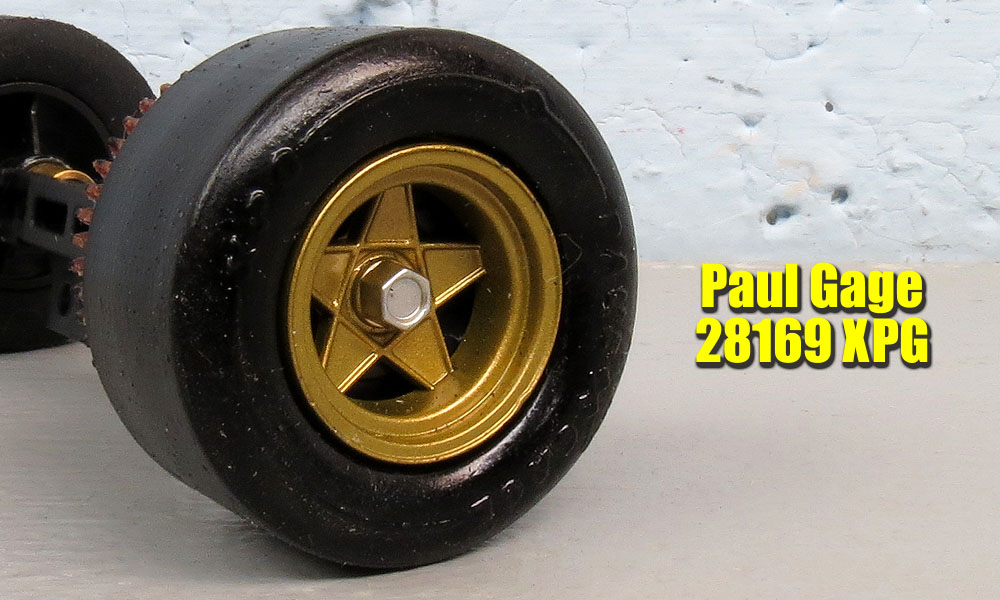 One thing that has changed is after-market tire choices. Today I use Paul Gage exclusively (no pun intended). These tires make a huge difference in how these models perform on our wood track and are worth the investment. Quick Link To Tires
Routed Wood Track Test
MidMo International Speedway
4x16 - 3 Lane MDF - Satin/Flat Latex Surface
Slot Car Corner Braid/Flush Mount - Aftermarket Power @ Volts
Professor Motor 2110 Low Voltage Electronic Controllers
TrackMate Timing
"When Giants Raced"
Hal Crocker wrote a 3 part series about classic racing that appeared in Vintage Motorsport magazine. The article is a fantastic account from this famous photographer of a time in racing where legends did battle in some of the most famous race cars in our history. When I see this model I think about it. I was not there of course but I understand how he must have felt. I sort of feel the same way when I see this model along side the others in our collection on the track. What a sight indeed.

Of course I may not have ever known about them if not for some good friends. "Old Johnny" from our forums sent the two models you see for me to find proper homes. At the same time our famous slot car author Jeremy "Bibbster" Bibbee began collecting this scale. His race reports had me wanting to get back into this series and on a recent visit it all came together. We raced these cars on our road course in stock form. No changes other than some tire sanding and cleaning. My power supply was set at 16.5 volts and for our small track these cars were all the fun we could hope for. Is it close quarters? Oh yes. My track was not made for these giants to do battle.
This model ran just fine out of the box. Of course a tire change makes a big difference for our track and that one simple change is all I had to do. After a truing session on the Tire Razor this car really came to life.
Final Thoughts
I used to feel the motor was an issue. I felt a change to a 12 volt motor was the way to go. I have to admit I was wrong in some ways. These cars run exactly like I want them to as is. The speeds are more to scale and I prefer it that way, especially on our modest home track. I am not racing on some large commercial or club track, I'm a simple home racer and the sight of these models at these speeds are just what I like.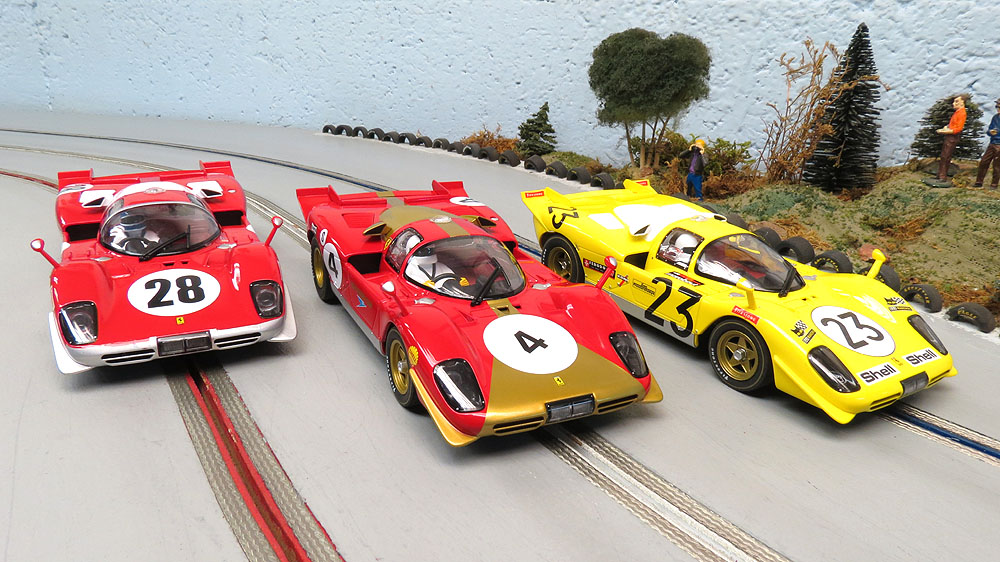 They are fast enough where we have to drive them and that means fast enough for me. These models may not please everyone but I am very glad that enthusiasts I get to race with from time to time feel the same. I think any fan of classic racing who has the room to race them should give them a chance.
Well done Carrera. Just one more model that delivers the fun I look for with a price I can afford.
- Harry
Contact ME here about this review or the hobby in general.
Thanks Go To Carrera of America for Sponsoring This Review!


Copyright © 2014 HomeRacingWorld.com All Rights Reserved