09/30/2014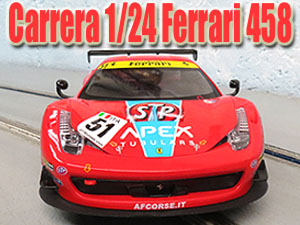 Carrera 1/24th Scale Ferrari 458 GT3
"AF CORSE NO. 51"
Part#23804
Nothing seems to bring that "Wow Factor" like the larger 1/24th scale models. It is what I say every time a new one arrives here and the only thing I want to do is get it on the track and start enjoying it.
If you are a newcomer to the hobby then the first thing you need to know is that the Carrera line of 1/24th scale models only come in DIGITAL form.
They are designed for the Carrera Digital124 track system which uses 18 volts for power.
However, you CAN enjoy them in analog mode and at a lower voltage and that is the focus of this review.
The video below shows you how easy it is to convert it to analog operation.
Now our model is ready for our track but let's take a quick look at the car before we start racing.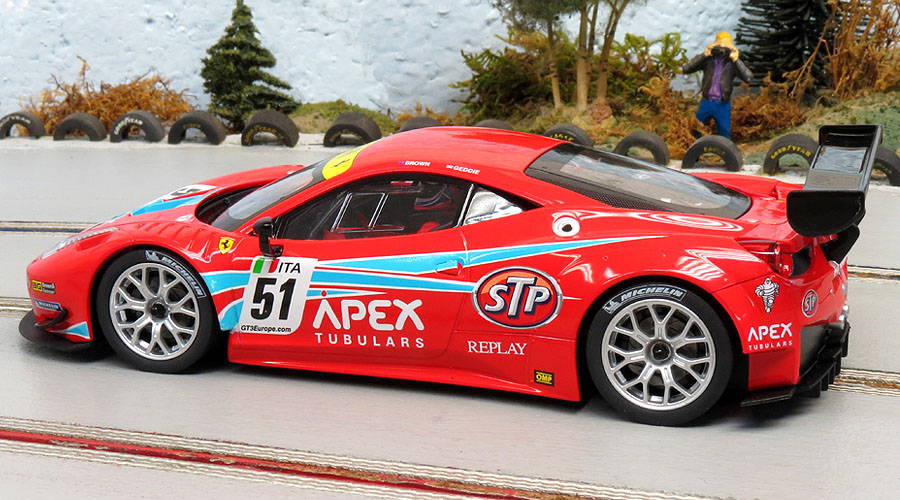 This is one of the nicest looking modern GT models Carrera has made in my opinion. The overall fit and finish of it is as good as it gets in our hobby today. Markings are all very crisp and clean with a high gloss clear coat throughout the model. Scale enthusiasts will find issues here and there when you compare it to prototype photos but overall nothing that stops me from liking it. Nothing is ever perfect in our hobby and I am not much of a "rivet counter" either. Some will feel the model is good enough, others will not. As always, YOU decide.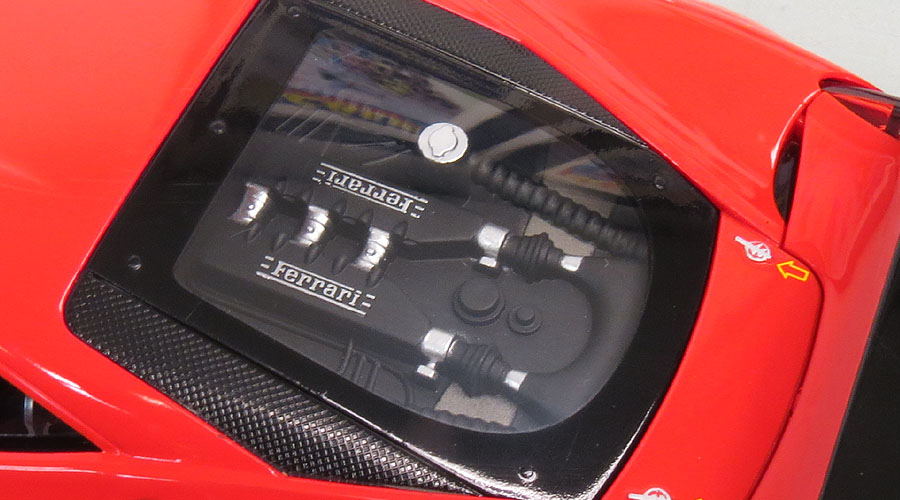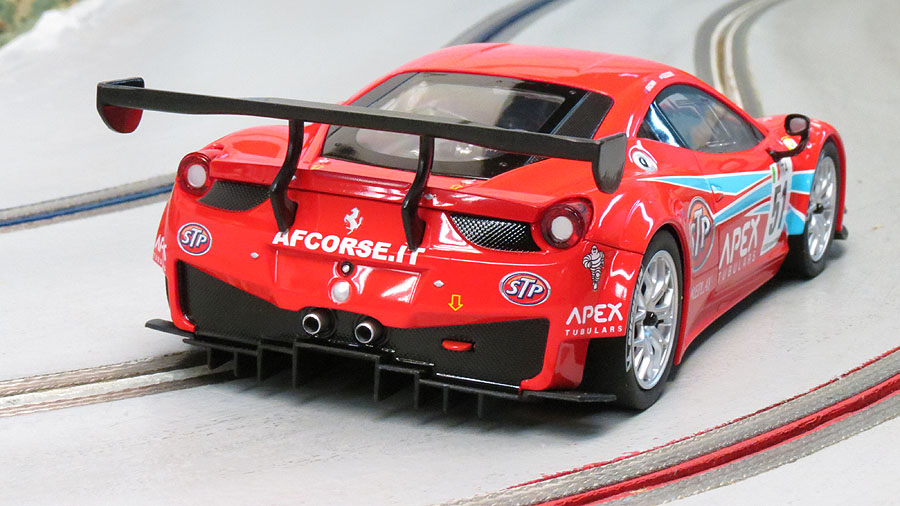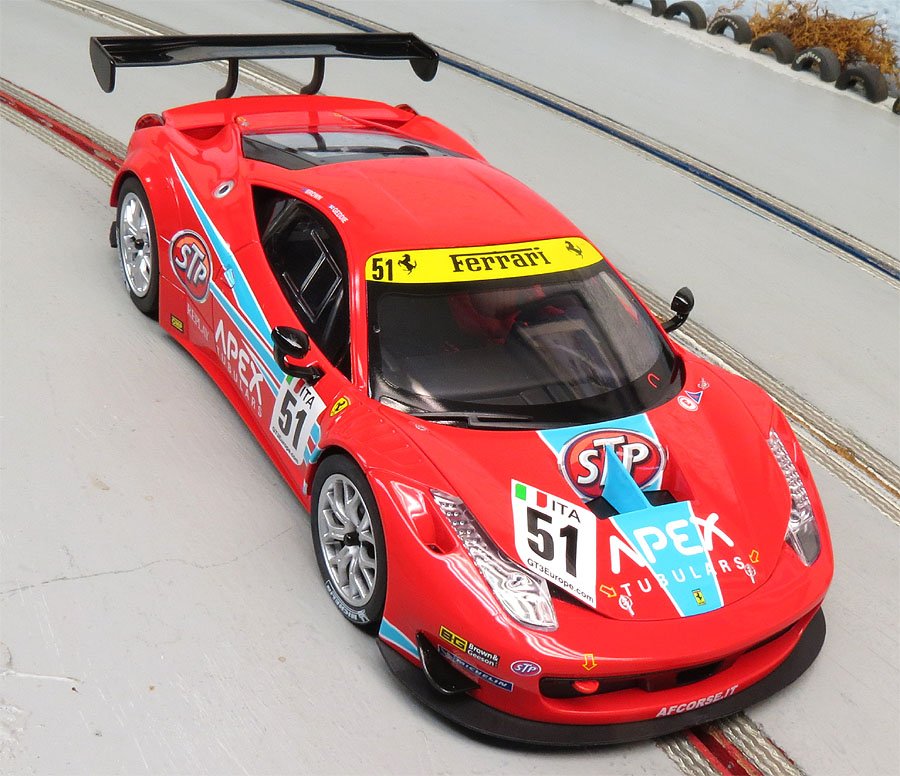 So on the outside it is a fine example of this modern racer and I look forward in racing it.
Closer Look
Looking underneath we see this model is very much the same as prior modern GT releases.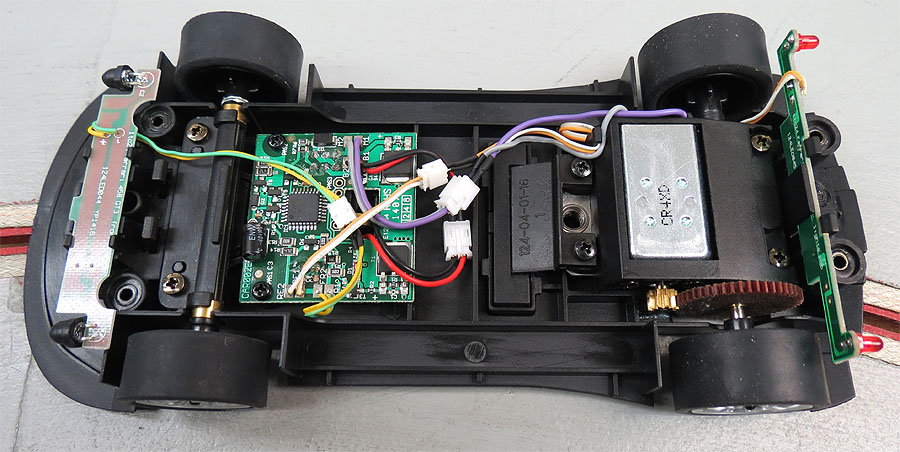 For a detailed breakdown of this chassis, please click HERE for an excellent review By Kurt Moser.
Routed Wood Track Test
MidMo International Speedway
4x16 - 3 Lane MDF - Satin/Flat Latex Surface
Slot Car Corner Braid/Flush Mount - Aftermarket Power @ 12 Volts
Professor Motor 2110 Low Voltage Electronic Controllers
The main item I wanted to feature is how much fun these models can be in analog mode AND at a lower than recommended voltage.
Below is a video showing you how the model runs for our home track.
As you can see the model runs just fine.
Some enthusiasts feel the need to change motors so the car has better response and increased speeds. I am just not one of them.
We have raced these models quite often and on our smaller home layout they deliver enough fun in stock form that I do not feel the need to change anything. I will change tires in the future but the stock tires, when they are clean, do the job for now.
I also want to keep the model with stock components so that when I visit other racers who run Digital, my car will be ready to race.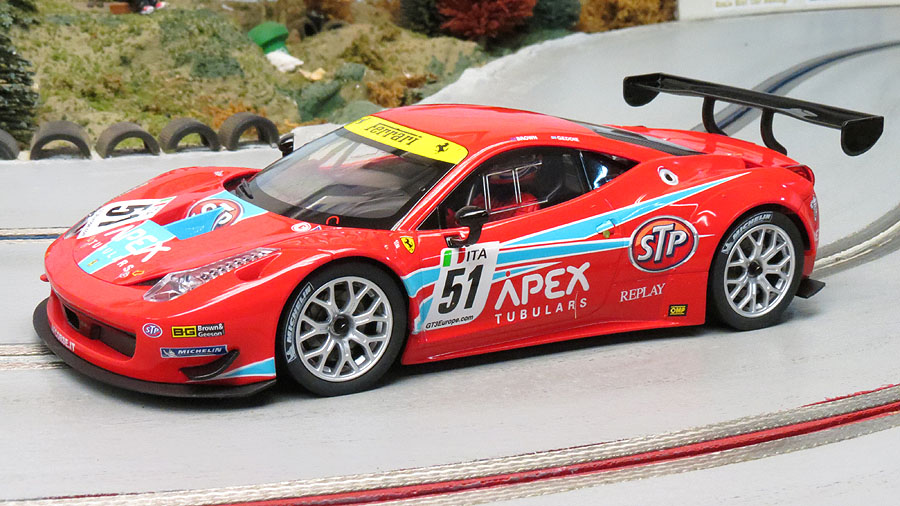 Final Thoughts
Carrera makes a wide selection of 1/24th scale models and I feel they deliver a good value with a price point of around $62.00. I do not collect a large amount of these models, but I have to admit the numbers in my collection are growing faster than I ever thought. Mostly due to the model selection they are making and then the fact they run well enough in analog mode for our home track.
-Harry
Feel free to CONTACT ME about this review or just about the hobby in general.
Thanks Go To Carrera of America for Sponsoring This Review!


Copyright © 2014 HomeRacingWorld.com All Rights Reserved