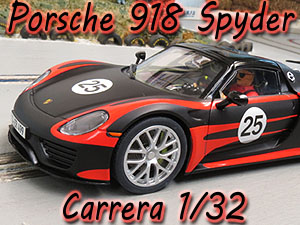 Carrera 1/32nd Scale Porsche 918 "No. 25" (Digital Version)
It might be an odd choice to some enthusiasts for Carrera to choose this model, but I will argue it is only fitting. With the roots of Porsche being where they are, Carrera should be the ones who make this special model. But is it for you? Before you dismiss it as a street supercar you might want to do a little research first.
When you type this model into Google, the responses are impressive. One of my favorites is found HERE. Learning about new cars is just one of the many fun aspects of our little hobby. Take a glance at that article and you might think twice about dismissing this model. Because I am not really huge follower of today's modern sports cars either, but the press release and testing data alone had me interested more than usual.
First we need to convert this model to run in analog mode. Here is a quick video showing you how easy it is to do.
The Carrera version is a very nice looking model and they did a great job on the paint and detail.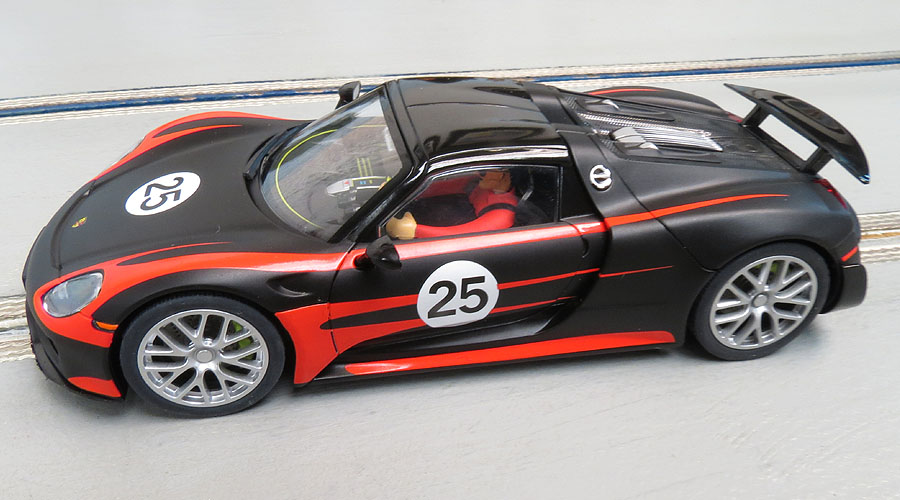 Spare mirrors, braid, and guide blade located in back of the case.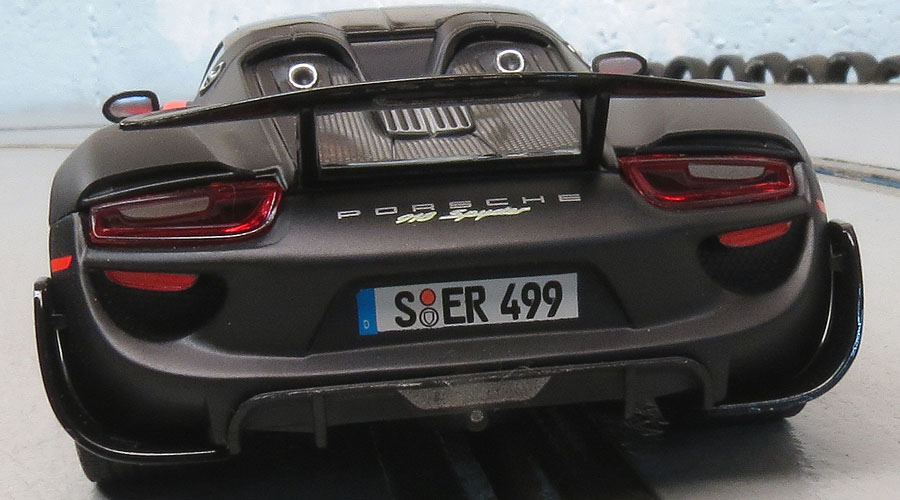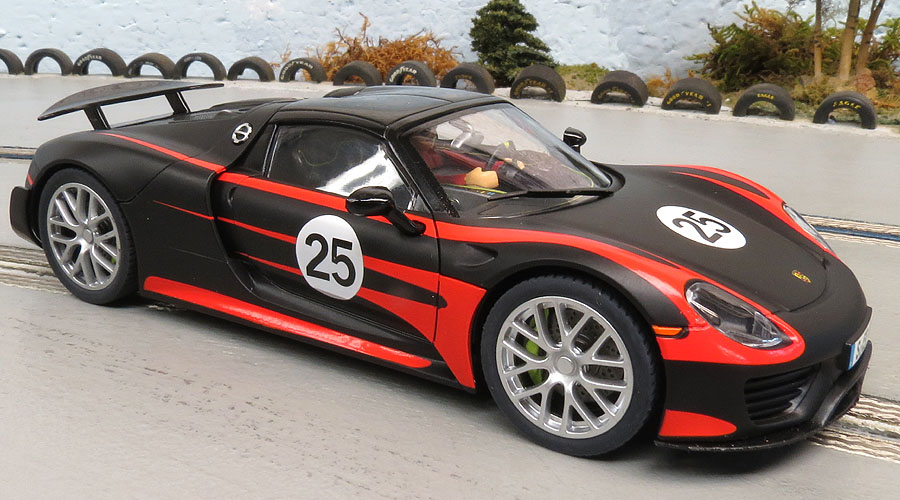 Looking at those prototype photos and then this car, I think most of you will agree.
From the fine mesh detail over the engine to the caliper color, Carrera made a strong effort in my eyes. The car seems slightly on the smaller side of 1/32 but not by much. According to my measurements it is about 2mm shy on width and 3mm on length. Does it bother me? Not really. But it might mean a lot to you so I have to mention it.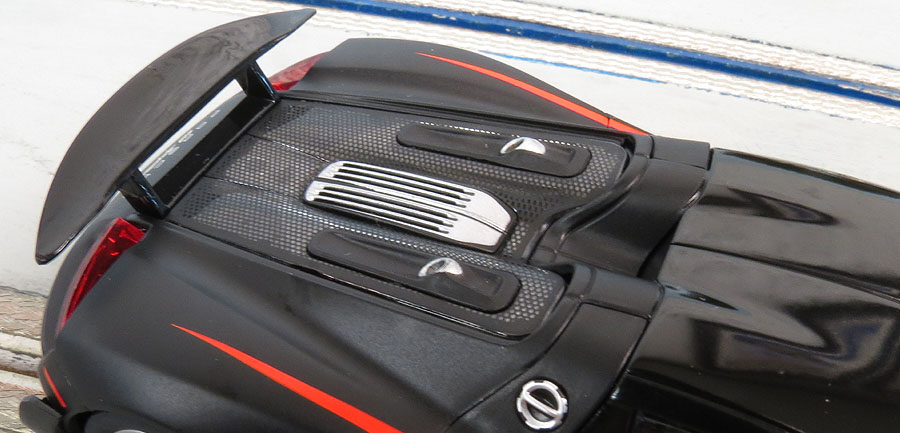 Some people chastise Carrera for using a driver with no helmet, but in this case I have no issues. In the article the driver is without helmet so I suppose they made the right choice.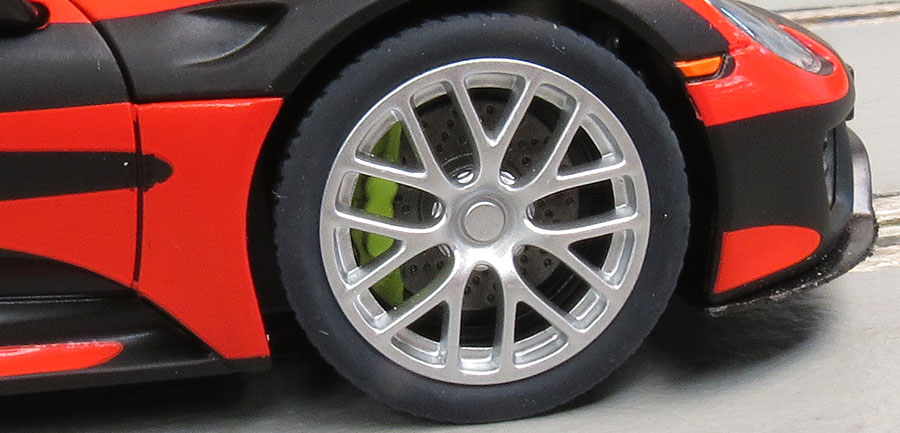 Wheels and tires are all new and look very good. Again, the brake rotors and caliper give it an appealing look to me.
Closer Look
Looking underneath we see the standard Carrera inline configuration.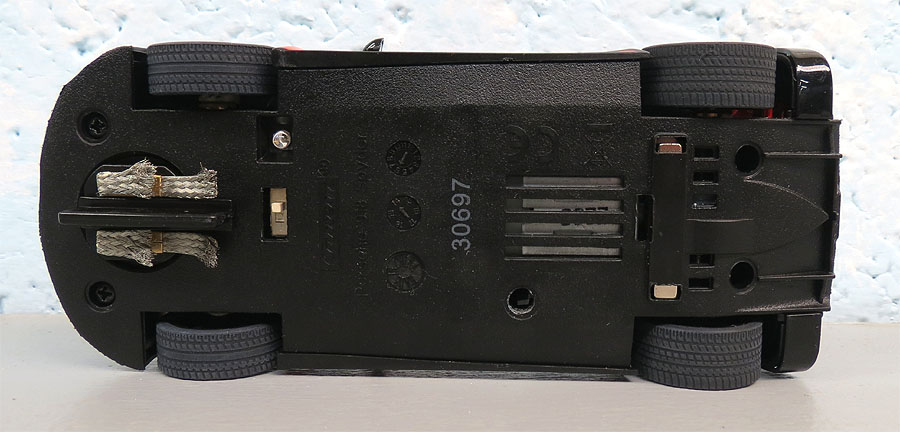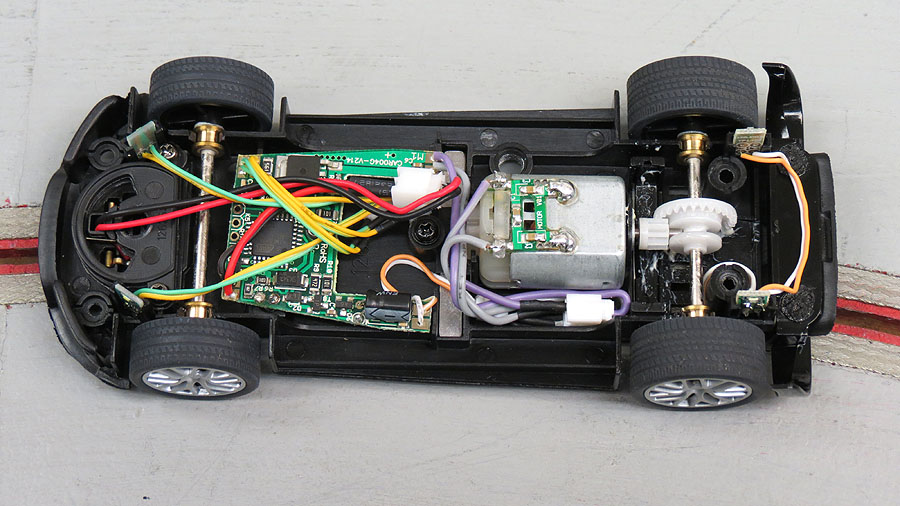 Inside we see the standard Carrera motor with a 9 tooth pinion and 27 tooth crown gear. We also see the digital chip and light boards that fill the rest of the chassis. Between the motor and digital board is the second bar magnet, that combined with the one behind the motor keeps this model pinned down rather well on Carrera track.
Routed Wood Track Test
MidMo International Speedway
4x16 - 3 Lane MDF - Satin/Flat Latex Surface
Slot Car Corner Braid/Flush Mount - Aftermarket Power @ 12 Volts
Professor Motor 2110 Low Voltage Electronic Controllers
I think this model ran exceptionally well for not being designed for non-magnet wood track operation.
I will let the video speak for itself.
So in stock form we have a nice running model that should be easily tuned by most.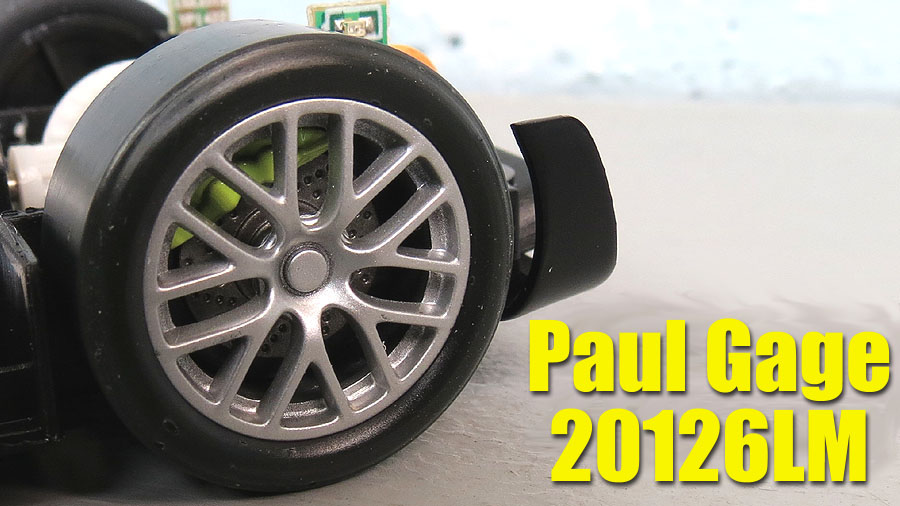 If you want a new tire then Paul Gage already has a size that fits the wheel. This change alone really made a difference as it usually does.
Final Thoughts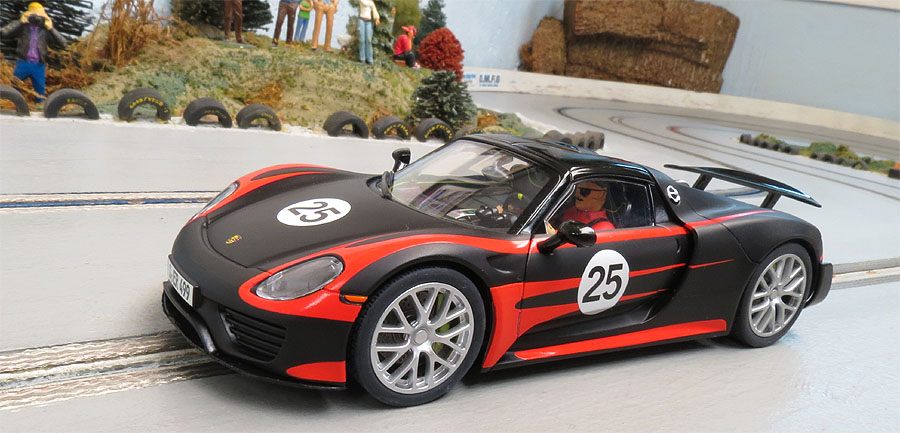 This car has a lot of potential. It could be a nice choice for the advanced enthusiasts out there as well as the beginner. The modern style Porsche might not excite everyone, but I think Carrera deserves credit for choosing to make it. They try to make models that appeal to a wide variety of enthusiasts and this model fits right into the line up easily.
- Harry
Thanks Go To Carrera of America for Sponsoring This Review!


Copyright © 2014 HomeRacingWorld.com All Rights Reserved