11/15/2014

1/32 Carrera VW Käfer Group 5
Item #30702 (Digital, blue), Item #30703 (Digital, red), Item #27470 (Analog, blue)

A Group 5 VW?! You have got to be kidding, right?! A VW racing with the likes of Porsche, Ford, and Chevy?!
By Jeremy "bibbster" Bibbee
Without a doubt, this is one of the most talked about releases from Carrera this year. We'll take a wild ride with this fat bottomed VW and see what it's made of. But before we get to that, did these cars actually exist? Well, sort of. I cannot find any evidence that they competed in the Group 5 series that those of us in North America are familiar with, but cars with a similar look did/do exist. They were built on the Formula 5000 platform and were Chevy V8 powered. They were popular in Europe back in the late 70's as entries into the Special/Super Saloon racing classes. So there you go, Super Saloon or Group 5...either way, big fenders and wide tires make for some unique looking race cars. There isn't a lot of information out there, but there is enough for me to say, yeah, it could('ve) happen(ed). An internet search for Super Saloon Beetle will net you several photos and even a video of a car at Goodwood. I'll be racing these with Group 5 cars I already own, and of course these VW's will make a great single car class by themselves. Enough of that, let's get to the slot car!
*NOTE* This is a digital car that was converted to analog. Please see the video at the link below for instructions on this simple conversion.
DIGITAL to ANALOG CONVERSION VIDEO
Would you look at the hips on that car! Let's see what else this new model has to offer!
* Spare guide blade (analog model only) and braids are located in the back of the case. *
Carrera does it again! The execution of the paint and tampos are absolutely amazing. This is detail you'd expect to find on higher end models or even the die-cast world, but alas, these are under $50(digital) and under $35(analog) models The lines are nice and crisp with no bleed through. Colors are nice and bright on all of the markings which really fits the fun of a Beetle well.
Did I mention the details on this car? The driver is painted well, as is the gauge cluster. Also adding to the realism, is a roll cage and air 'vents' in the side windows. A nice touch is the tinted 'sun visor' on the windshield.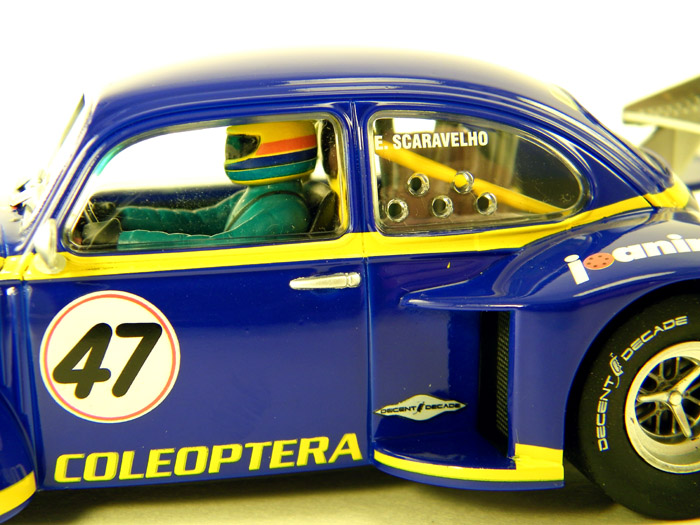 Has anybody seen the wing and fenders for this car? I can't seem to find them!
The exterior offers us some wonderful eye candy! In addition to the honkin' big wing and extra wide fenders, there is added engine detail as well...in the rear of course. It is a VW after all!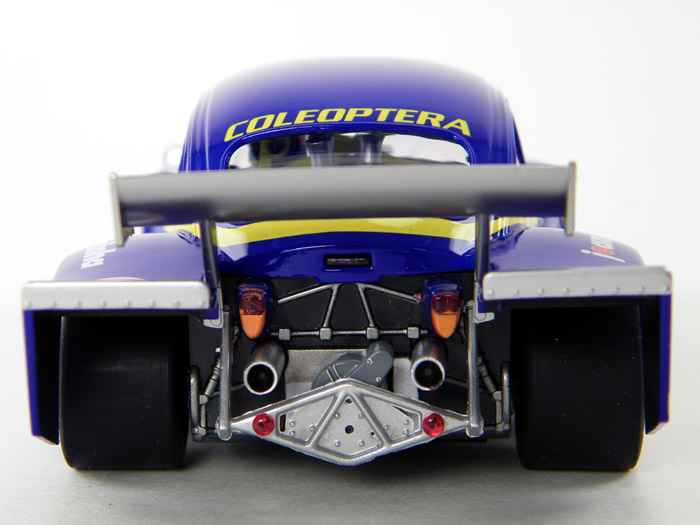 Actual tire manufacturer logos are non-existent on this model, and in all actuality, I don't care. Carrera makes an effort to give us something using their 'Decent Decade' brand and that is good enough for me. I'd much prefer the tires with something on the sidewall rather than to be left plain on most models. And as with other tampo printed artwork on this model, the tire lettering is crisp and bright.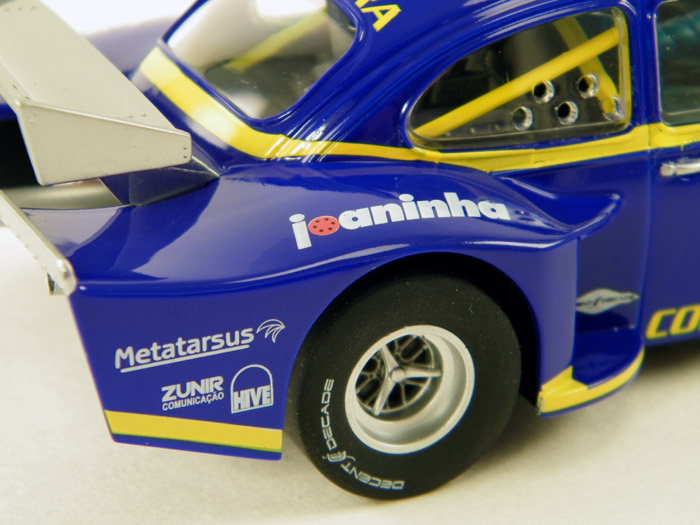 As with all analog models from Carrera, there are no lights, rear or forward. If you want to enjoy lights and maybe a little night racing, you'll need to purchase the digital models since working lights are only offered on digital models. I should also note that if the digital car is in analog mode, the lights will still work.
Good grief is this car fun to look at! You have to admit, whether you like VW's or not, whether you like Group 5/Saloon or not, your slot car brains just wants to own one of these. It's okay, admit it. Me, I'll own several before it's all said and done.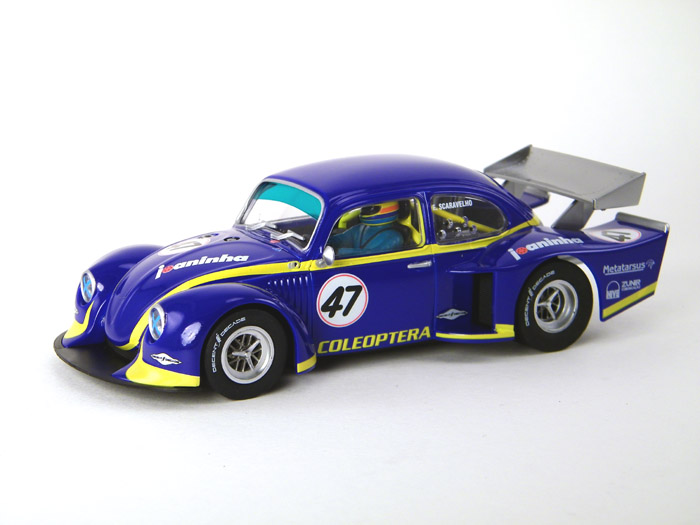 Looking at the rear of the car, we see the large spoiler and engine details. I'm not sure if this is a scale Chevy V8 or not, but it looks like an engine and that's suits me just fine.
The spoiler is removable, and with hard racing, I'd suggest doing so. Spoilers are sometimes fitted tightly, but with a little simultaneous pulling pressure on both struts, NOT the wing, it will come loose.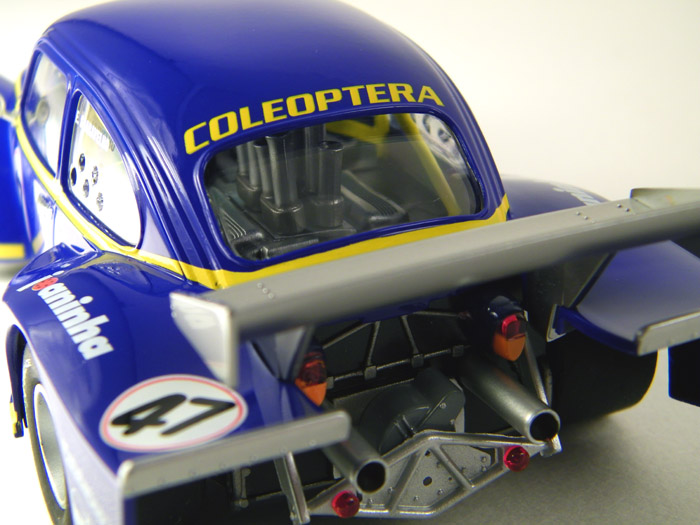 Okay, okay. I could go on and on about this great little beast, but I'll stop there and move on to how it runs.
(It's about time!) Hey! Who said that?! Kurt?
Track Test
Vetaran's Memorial Speedway Roadcourse
6' x 16'- 3 Lane Particle Board- Flat Latex Surface
Copper Tape - Pyramid PS26KX Aftermarket Power @ 10 Volts
Parma 45 Ohm Controller
Upon removing the car from the case, I adjusted the braids, and off to the track we went. The VW Käfer performed very well. I anticipated that the wide stance of this car would firmly plant it on the track, but boy did I ever underestimate that thought. I'd swear that the track was magnetized! I did notice some hop in the rear, though it was very little. On a plastic track one would most likely never see this, but on wood where all things show up, the hop was there. A light scuffing of the rear tires took care of the hop. A bit more tuning and it will easily smooth out. For those of you who race on plastic with magnets, you will find that it handles nicely without any tuning. How do I know this? Well, I put a digital chip in the car and ran it around my Carrera digital track. As expected, the car was smooth and quick at a 30% power setting.
I have mentioned before that the tire compound Carrera is using these days is a good one; softer and really good grip. The stock tires will not compare to silicone or urethane tires, but for out of the box running, they work very well.
Acceleration and braking are both perfect. Acceleration is quick and stopping is abrupt. This little jewel is a really fun drive on both wood and plastic.
On to the details of what makes this little car go...
The underside of the car shows that there are four body mount screws; two at the front and two at the rear.
If you are a magnet racer, you'll get two as standard equipment with this car; one forward the motor that does not show from the bottom, and one aft of the motor.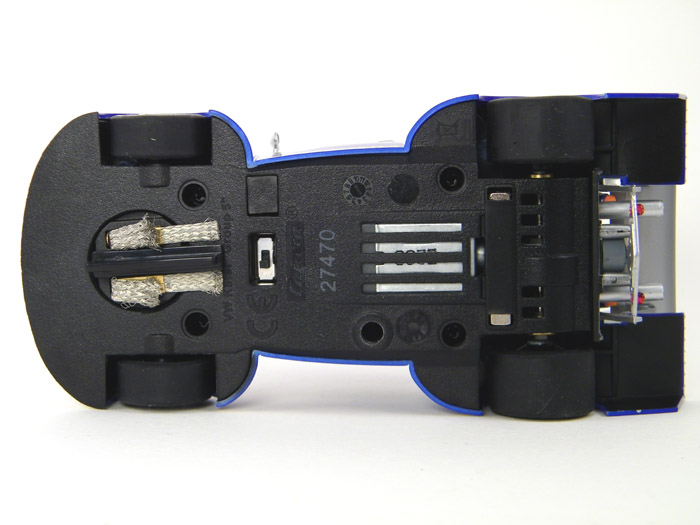 A few details you may be interested in:
Weight: 3.3 oz., Length: 5.25", Width: 2.5", Height: 1.625" (bottom of tires to top of roof)
Let's take a look inside!
With the body removed, we can see the inside of the chassis including the reversing switch chip. You'll also see independent front wheels instead of a straight axle in the front.
Again, the standard E200 motor as well as the 9 tooth pinion and 27 tooth crown gear (Note the area of the rear tires that are scuffed, mentioned earlier). I'd also like to mention that the same white grease that was used on the pinion and crown gear was also used inside each of the rear bushings. I've not seen Carrera do this on any other car to date. So this is either a step to provide some preliminary lubrication for the user, or someone at the factory saw a need and filled it. How this grease will hold up in a bushing is unknown to me, but it is nice to see lubrication present in the axle bushings from the manufacturer.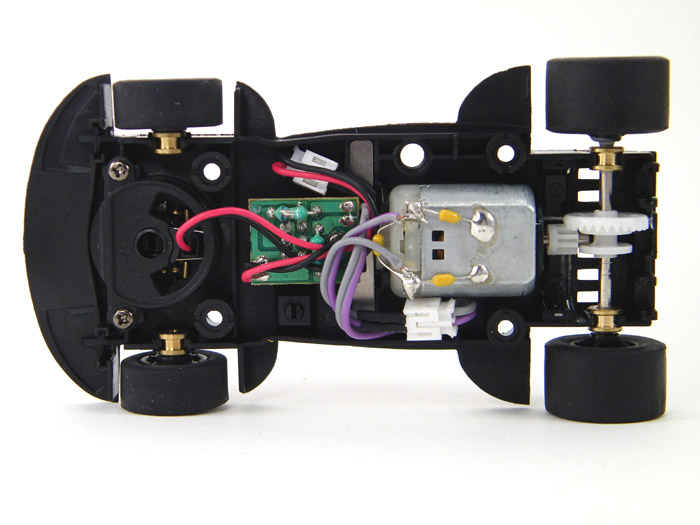 Here you can see the underside of the body. You'll see the half tray interior that has become standard on all Carrera models. All parts are plastic welded except for a single screw just below the windshield area.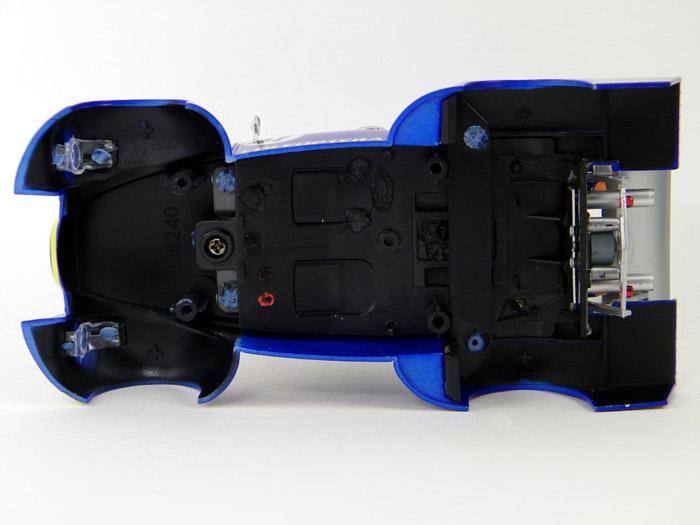 Whether you are a fan of VW's, Group 5, or Saloon, you will be happy to add this model to your stable of racers. It's fun, races well, and just looks cool! As always, I have to mention the price of these models. Great detail, and an overall great running car all for under $35 (digital version are under $50). What more could you ask for? So pick up this model, grab a friend, and have some fun racing! And remember, if you're not having fun, you're doing it wrong!
Jeremy
Contact ME here about this review or the hobby in general. Or visit our discussion forum to read and share more about this and other models, HERE.
I purchased this model from LEB Hobbies.
Click their logo below to visit their online store!


Copyright © 2014 HomeRacingWorld.com. All Rights Reserved.