The rear suspension assembly pops right out and it reveals a single screw that holds the entire pod in place. Many racers loosen this screw to add a little float. If you are wanting to remove the magnet then you must remove the screw and flip the pod over.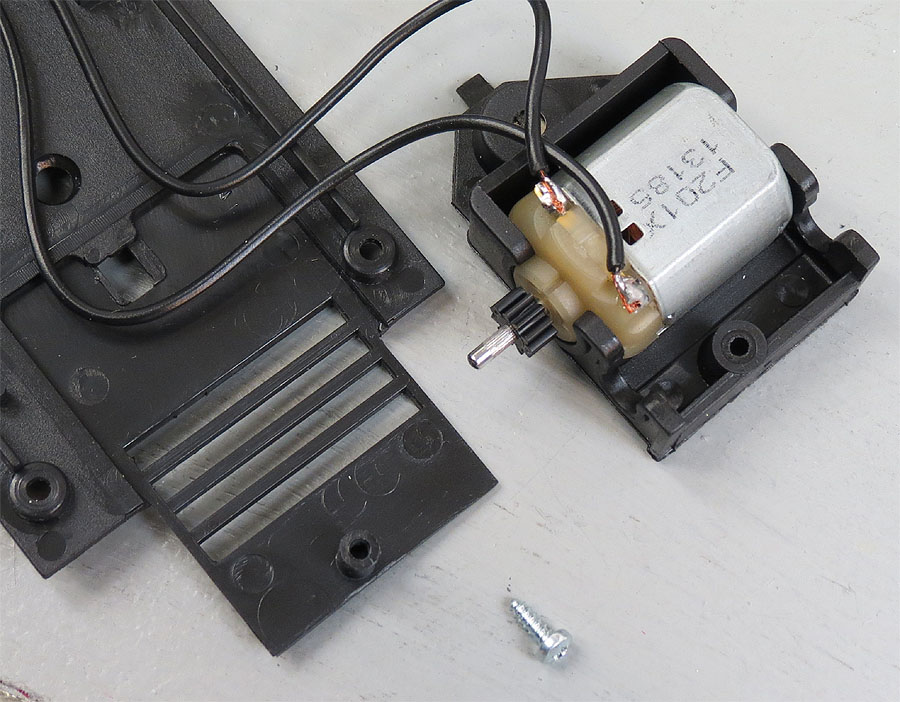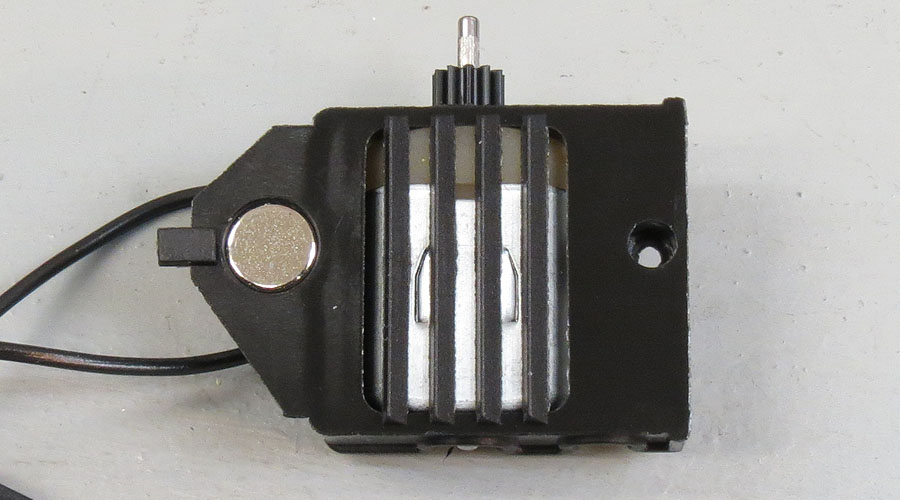 Routed Wood Track Test
MidMo International Speedway
4x16 - 3 Lane MDF - Satin/Flat Latex Surface
Slot Car Corner Braid/Flush Mount - Aftermarket Power @ 12 Volts
Professor Motor 2110 Low Voltage Electronic Controllers
Testing this car ended up being a welcome surprise. It ran a lot smoother than expected and that told me we have a good car that will only get better with just a little tuning.
On plastic track, the button magnet really pins it down but not it's not excessive. The only problem with this thick button magnet is that when you push it too hard and it does finally let go? It goes. Most times HARD. Remember that mirror I talked about? I think you get the idea.
But magnet or non-magnet, this car is FUN. Fun to look at, fun to race, fun to tune. Always has been, always will be.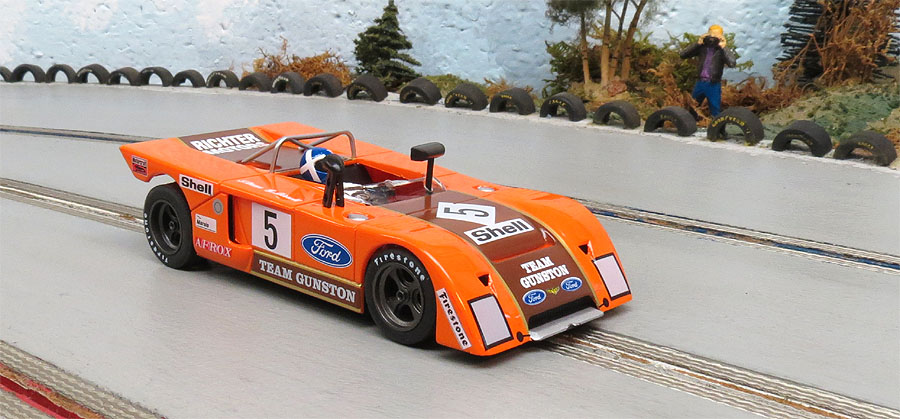 And tuning this car today is a LOT easier. Back in 2001 we didn't have all the parts available like we do now, especially in the tire department. I installed the new Paul Gage PGT-21137 LM tire and it fit perfectly. You might need to lightly sand the inside sidewall to clear the chassis, but that is no issue.
You could go with a lower profile tire using the PGT - 20137 LM if you wanted to start out lower. However, I like the 21 size tires. In the photo you can just see the raised lip of the tire, this is perfect as I can now sand/profile the tire to my liking without losing the diameter I want.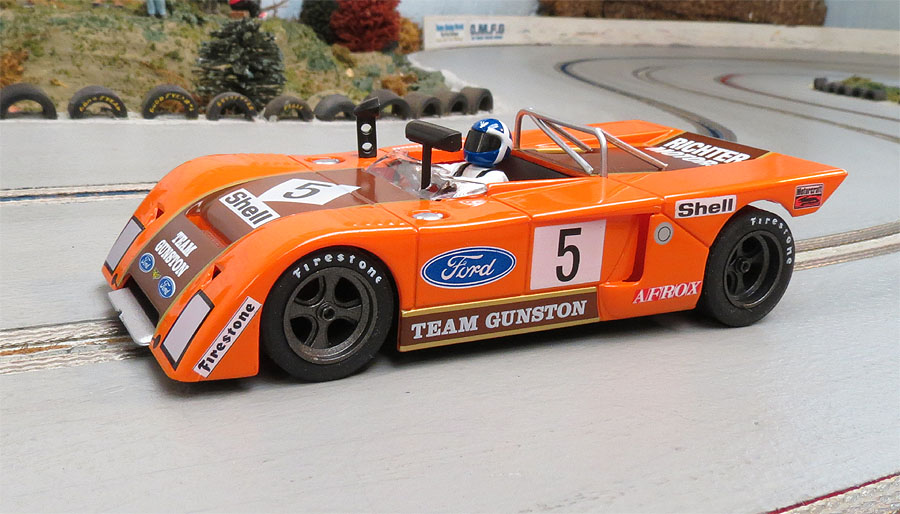 Of course there are those that dislike this brand. They can be rather troublesome to say the least if you get a bad one. From cracked wheels, warped chassis, tires that turn to goo that is still one of the World's greatest unsolved mysteries...you name it, a Flyslot car earned the reputation some give it.
Yet this car is still desirable. Especially this new one. It runs well and seems to be free of any major issues. Of course I am going to go through it and tune it a little, but I see no reason for a major overhaul.
Final Thoughts
This is one car that has had many articles written about it over the years. It can be tuned to be one tough customer on the track and that alone made it a go-to choice for many racers. I only collected a few but the ones I have are rockets and rank right up there with some of the fastest Fly cars in my collection.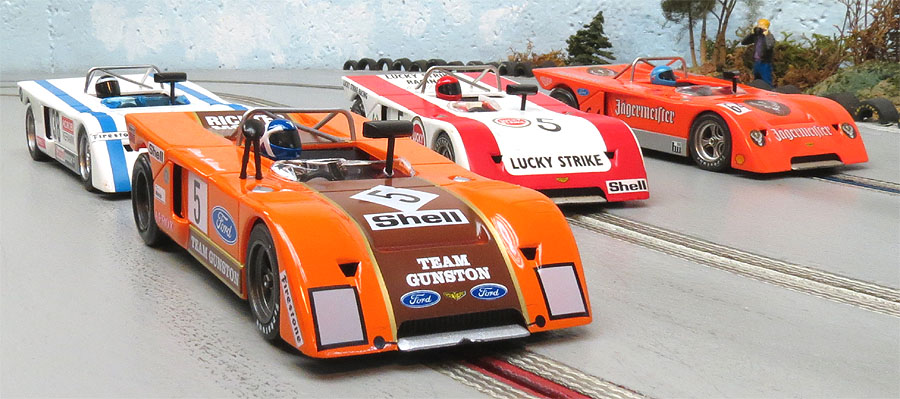 So I am happy to add one more Chevron to my collection. These cars have been a lot of fun for many of us over the years and this one will fit right in. As I said in the video, one of the best things about this car is that it's available again for the newcomer. Of course they need some tuning once in awhile, but overall not a bad model for someone to start experiencing this brand.
- Harry
Feel free to CONTACT ME about this review or just about the hobby in general.
Check Out The Latest FlySlot At PowerSlotCars.Com


Copyright © 2014 HomeRacingWorld.com All Rights Reserved