08/15/2014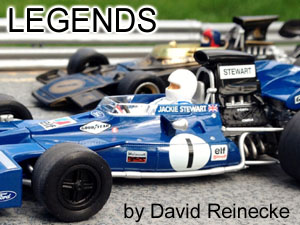 At the close of the 1960's Formula 1 was making massive leaps in technology that rendered most cars completely unrecognizable from only a few years before. As in other racing series (Can-Am in particular) aerodynamics began to play an increasing role in car design. Drivers and tires were being tested to the limits, and safety was beginning to become a serious worry.
The 1970's opened with the posthumous crowning of World Champion, Jochen Rindt and the tragic losses of Bruce McLaren, Pedro Rodriguez and Jo Siffert. Jackie Stewart joined the brand new Tyrrell team in 1970 and over the early 1970's a crop of new drivers began to arrive – most notably Emerson Fittipaldi, Clay Regazzoni, Nikki Lauda, and James Hunt.
1971 saw Stewart and the Tyrrell team hit their stride with chassis 003, winning 7 races (Stewart won 6 and team mate
François Cevert
won the US GP at Watkins Glen) and Stewart taking home his second World Championship. The Tyrrell 003 car ran deep into the 1972 season and was even used for testing in 1973.

1971 was Fittipaldi's first full year as lead driver for the Lotus team and he finished sixth in points using the previous year's Lotus 72. Entering 1972 with the Lotus 72D, he dominated the season by winning five of eleven races and the World Championship. At the age of 25, he was at that time the youngest F1 champion in the series' history.

1973 saw roles reverse from the previous year as Fittipaldi struggled with the new 72E that arrived mid-way through the season and although Lotus took the Manufacturer's Championship through a combination of the points amassed by the 72D and E cars, Stewart beat Fittipaldi for his third World Championship.

Scalextric have recently released the Tyrrell 003 and Lotus 72E as driven by Stewart in the 1972 and Fittipaldi in the 1973 seasons respectively. Both cars are display the number 1 signifying their standings as World Champions from the previous season. Of note, these two cars did not compete against each other as presented in this set. The Tyrrell 003 car last competed in the 1972 German Grand Prix and the Lotus 72E car did not debut until the 1973 Spanish Grand Prix.

This boxed set is limited to 3000 units world-wide and it appears that the sets have already been sold out at Scalextric. A few online stores in the USA still show a scant few in stock and most fans of these cars will have to search overseas for the set if they have not pre-ordered them. In an interesting twist, hobby stores in the USA apparently received their orders before Europe – a reversal of most previous releases. I ordered my set from Power Slot Cars in the USA and paid $109 for the set before shipping and handling.

The Presentation

This set uses a similar box to the Lauda/Hunt set issued a few years ago. The box is nicely decorated and features a hard card with the production number of the set itself. The cars are screwed onto a cardboard base and are easily removed. A few extra guide plates with braid are found in a bag under the car base.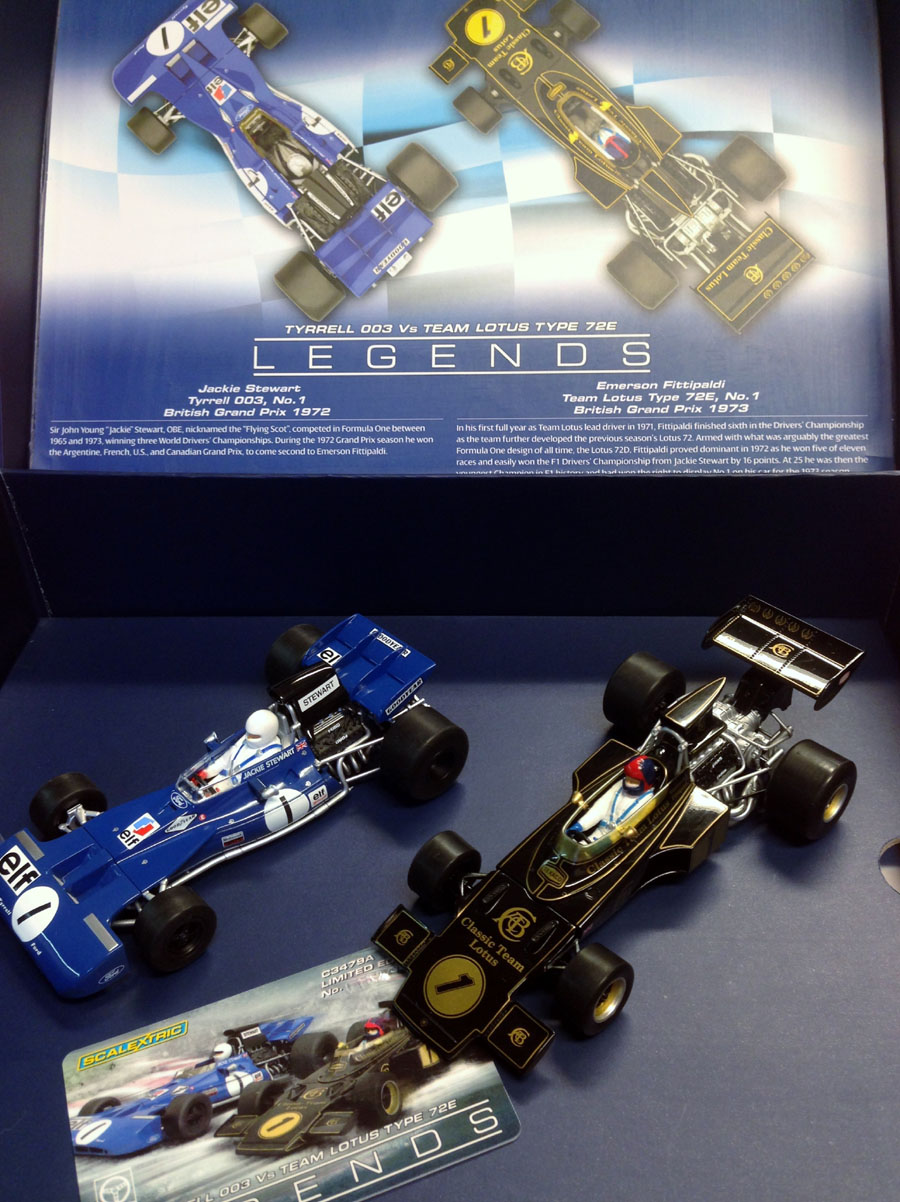 1972 Tyrrell 003 #1 as driven by Jackie Stewart

Let me begin this review by stating my only complaint with this car: The Flying Scotsman's helmet is not painted. For the life of me, I cannot figure out why. I can fix that, but shame on Scalextric for not giving this car its proper due!

Once off the base, the car is a wonder to behold. It won't be mistaken as one of the efforts released in the 1980's by the company. The level of detail is very good with cooling pipes, exhaust, suspension, motor and gear box detail all being well executed for a "model" that contains an electric motor. The markings are some of the best I've seen from Scalextric yet

– crisp with zero fade or bleed through. The paint is absolutely flawless as well. The wheels are painted in flat black and perfectly replicate the shallow, 4-spoke fronts and conical deep-dish monsters in the back. The tires are appropriately sized and appear to be made out of the newer, softer compound as seen on the recent Trans-Am releases. One oddity is that there are no Goodyear markings on the tires. I'm not sure why these were omitted, as there are Goodyear logos on the car. This does not matter much to me though, as my cars get raced and these usually wear off fairly fast from handling. At worst, I can always add them or use a toothpick and white paint to replicate the look.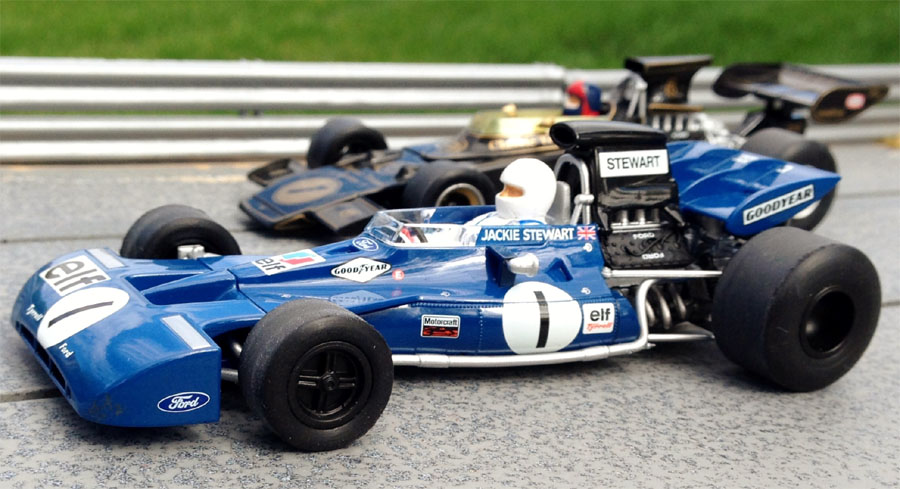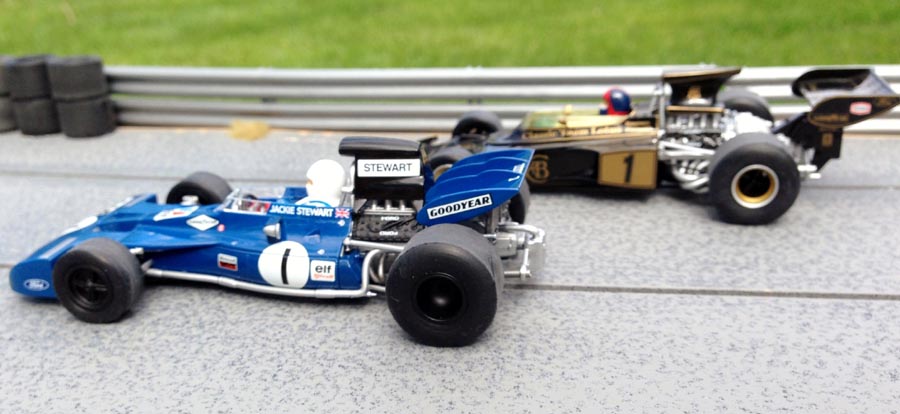 Looking into the cockpit, I find myself shaking my head again over Sir Jackie's helmet lack of paint and notice that the roll bar is well executed, the driver's body is detailed enough to my liking, and the dash has tampo-printed gauges that look very nice.
Flipping the car over, there are 5 screws holding the car together and it is very clear that disassembling this car will take some patience and courage. Several pipes and suspension parts look to be assembled together and will require extra care to remove without breaking. If you have ever ventured into the Scalextric M23, you will have a sense of déjà-vu.
Taking the car straight from the box to my routed road course, I checked to see that the braids were adjusted and that the tires were properly seated. With no obvious issues, onto the track Sir Jackie went!
.
.
.
Sorry for the elapsed time there, I was having a hard time tearing myself away from driving this car. Why? In box-stock form this car absolutely hustles around my track. No hopping, no chattering, only a slight amount of sliding, and no drama. After making sure I had not picked up a Slot.it by mistake, I tested it again with the same results. Without a doubt, this is one of the smoothest Scalextric cars I've ever tested out of the box.
1973 Lotus 72E #1 as driven by Emerson Fittipaldi
I'll get the obvious comment out of the way by stating that the Toy Police required the correct John Player Special logos be replaced by ones that read "Classic Team Lotus". While not surprising and not correct, it is only a minor distraction for me. I find myself overlooking this change since my brain knows what it is really supposed to look like and I keep substituting the correct logos subconsciously – at least that is what I keep telling myself. With that issue aside, let us take a closer look at this car.
As seen with the Tyrrell, this car is very well executed. The shape shows that Scalextric again did their homework and it is a very good representation of this particular car. The level of detail is equal to that of the Tyrrell with one exception: they painted Emmo's helmet! The trade off is that they did not tampo the gauges on this car. The paint is again flawless and impressive with one of the best gloss black paint jobs I have seen on any slot car. The gold stripes, logos, and numbers are simply fantastic. The tires appear to be the same as the ones on the Tyrrell and again have no markings although the car is adorned with Goodyear logos.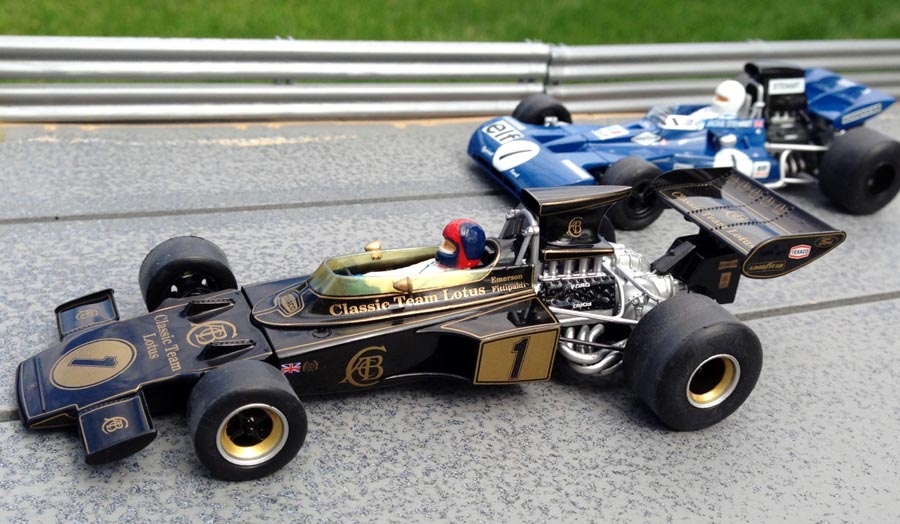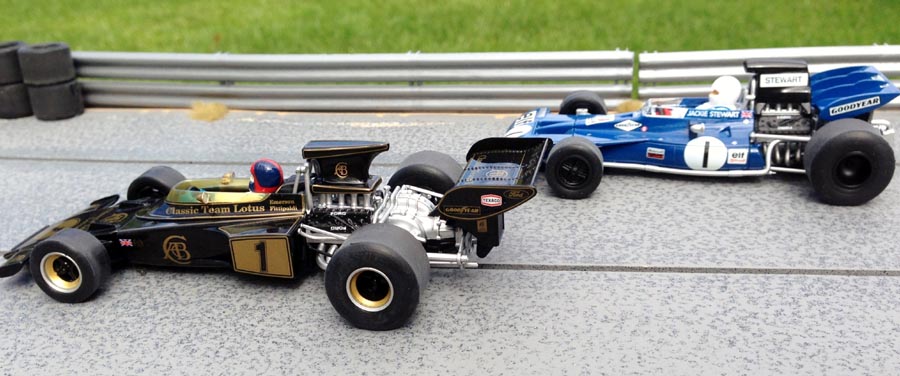 As with the Tyrrell, I ensured the braids were adjusted and the tires were seated before Emmo performed a few practice laps in the 72E. Again, a few laps turned into about a hundred laps. Dumfounded that the Lotus ran as well as the Tyrrell, I continued to run the car in box-stock form for a few evenings. The only improvement I can think to perform on this car is to scuff the tires simply to give them a slight improvement in traction. Other than that it is simply a joy to drive.
Minor tuning
As good as both cars run, I wanted to see if these newer compound tires true up with a simple scuffing. Instead of disassembling either car, I simply used my sanding block to perform a quick true-up. I removed enough rubber to see that the tires were evenly sanded and re-tested the cars. Both cars reacted very well to this and rewarded me with an easy to drive car that held the corners of my tight track very well unless pushed hard. As smooth as they both are, this will be the only tuning they will see until I re-motor them. I have done this to all of my F1 cars by using the 14k SL-1 motor from M/T Racing. The objective in doing so is to slow the cars down from the incredible speeds they are able to reach with the stock motor. While I do have an adjustable power supply, I still find the cars too quick for most to drive on my track. I only want to open these cars up once, so I'll drive them for a bit longer as is and then pull them apart for the transplant. While some collectors and purists might complain, I have a very compatible grid of F1 cars from this period that are very fun to drive quickly without worrying too much about damaging them at a scale 500 MPH.
Conclusion
As an unapologetic 1970's F1 fan, I was over the moon when these cars were announced. While growing up in Germany and excitedly looking forward to going to the next German Grand Prix, I rug-raced the Corgi die cast versions of both of these cars. The Corgi versions were great, but I found that they wore out the knees of my blue jeans much quicker than racing slot cars on a track.
I realize these two cars never actually raced together as they were separated by half a season, but I could not care less. I'm very thankful that Scalextric produced a very good version of each car and that they run so incredibly well out of the box. Even though my F1 grid covers cars from 1972-1976, I find that they all look period correct enough to my eyes when they are all together. With the re-motoring I've done on all of these cars, they provide for some seriously spirited racing on my track when friends come over.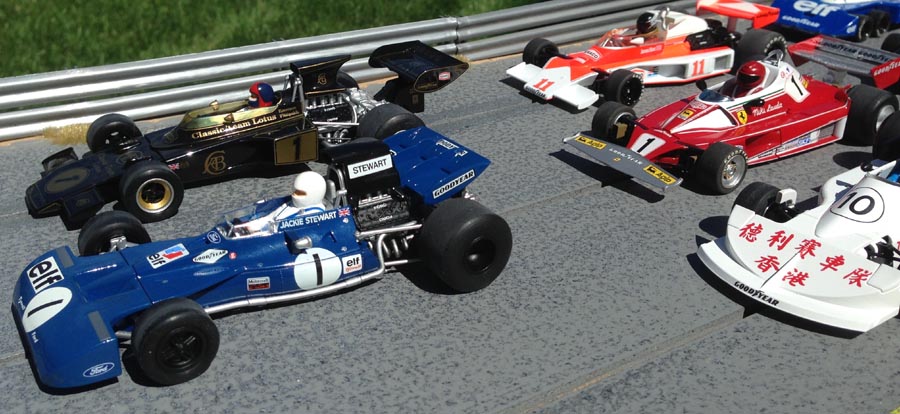 Hats off to Scalextric for continuing a great series and for re-kindling such great memories of my childhood!
-David

Copyright © 2014 HomeRacingWorld.com All Rights Reserved