04/01/2014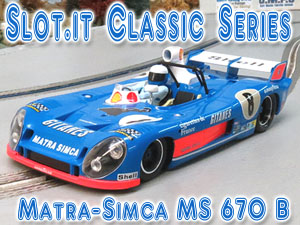 1/32nd Scale Slot.it Matra-Simca MS 670 B
Le Mans 1974 - #CA27A
The latest in the classic series from Slot.it might not be appealing to everyone, but it is a Slot.it after all and that is usually enough of a reason for me to pick one up.
This review is slightly different. Rather than just focusing on just the model itself, I want to pit it against two of the other classics we race to see how it stacks up. Most advanced enthusiasts already know what a Slot.it model brings to the table and basically a regular review is just repeating what you already know.
For the newcomer, please take a look into our Slot.it Review Archives. Inside you will learn that Slot.it models are some of the best value the advanced racer can acquire. Coming equipped with the highest quality running gear goes a long way in the performance department. Most times we just do a tire change and few minor adjustments and the model is ready for action.
Quick Data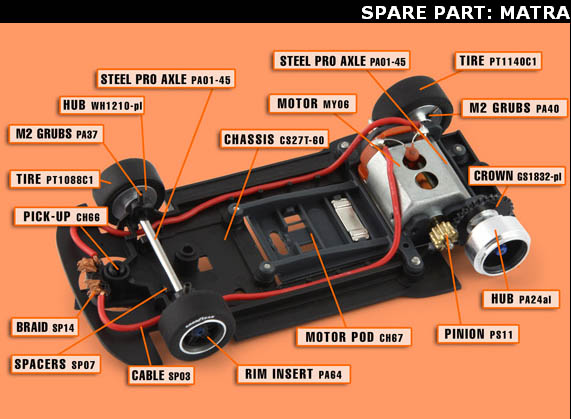 When the model arrived from Slot Car Corner I was impressed as usual. Overall fit and finish is about as good as it gets in our hobby.
My lack of skills with a camera cannot capture the correct shade of orange trim. You can refer to professional photos like the ones shown in the Slot.it press release to really get a quality look.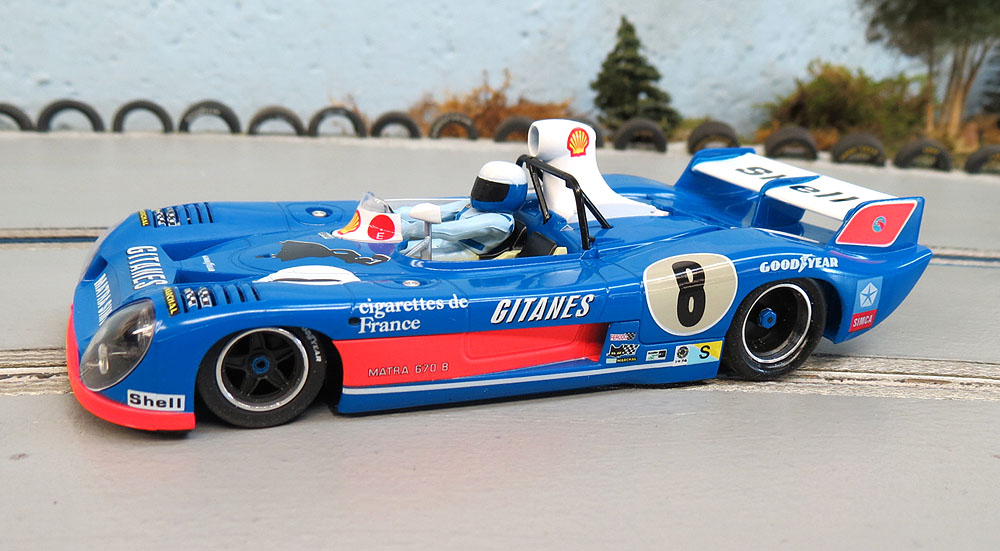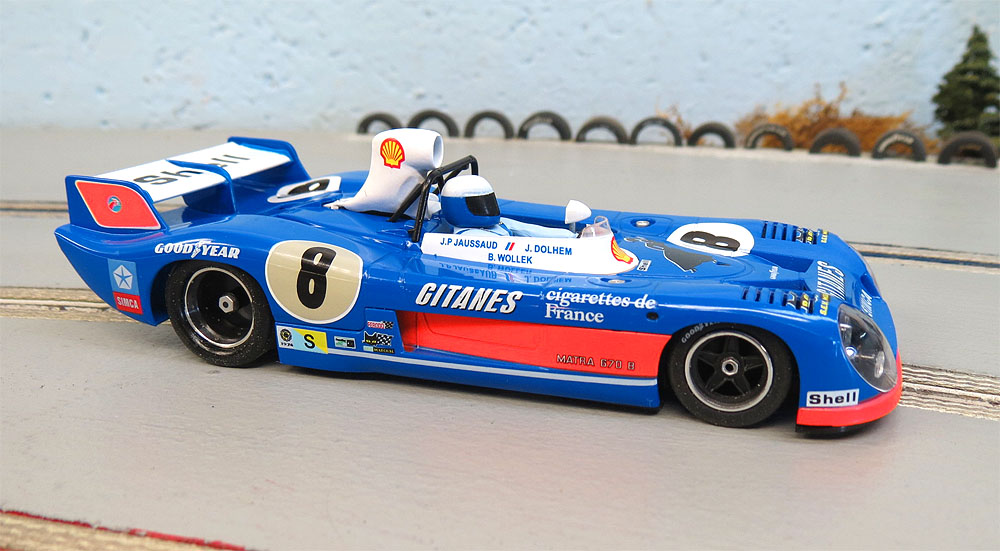 By first looking at the rear wheels you might think an insert is missing. It isn't. This is how the car looked. Not a perfect rendition but close enough for most.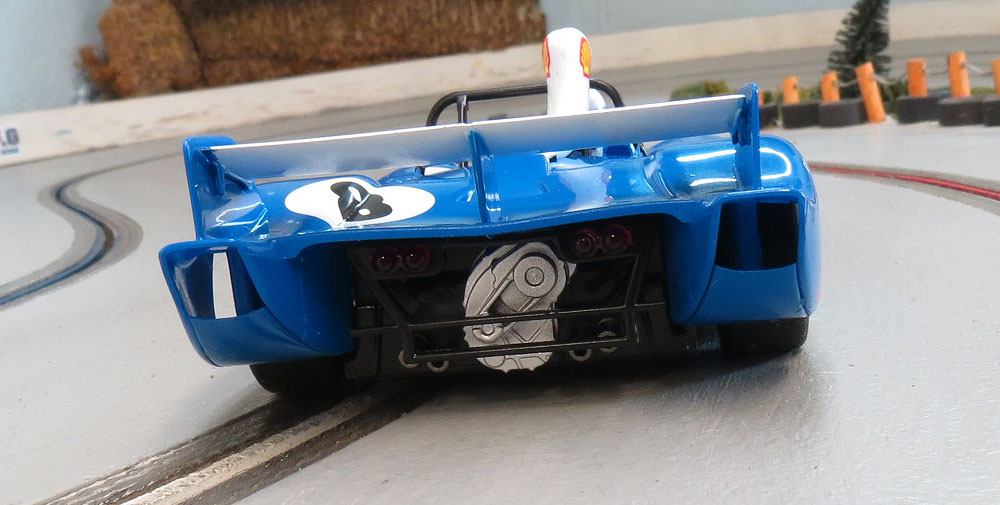 I think the detail level is more than acceptable. As usual it is all about your own personal preferences.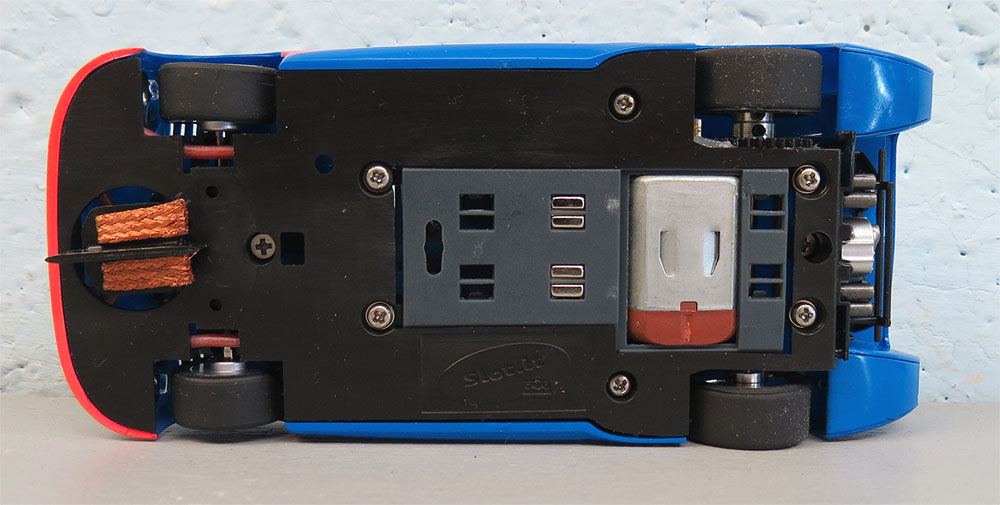 A quick look underneath reveals no surprises. Sidewinder configuration just like other classics in the series.
Routed Wood Track Test
MidMo International Speedway
4x16 - 3 Lane MDF - Satin/Flat Latex Surface
Slot Car Corner Braid/Flush Mount - Aftermarket Power @ Volts
Professor Motor 2110 Low Voltage Electronic Controllers
TrackMate Timing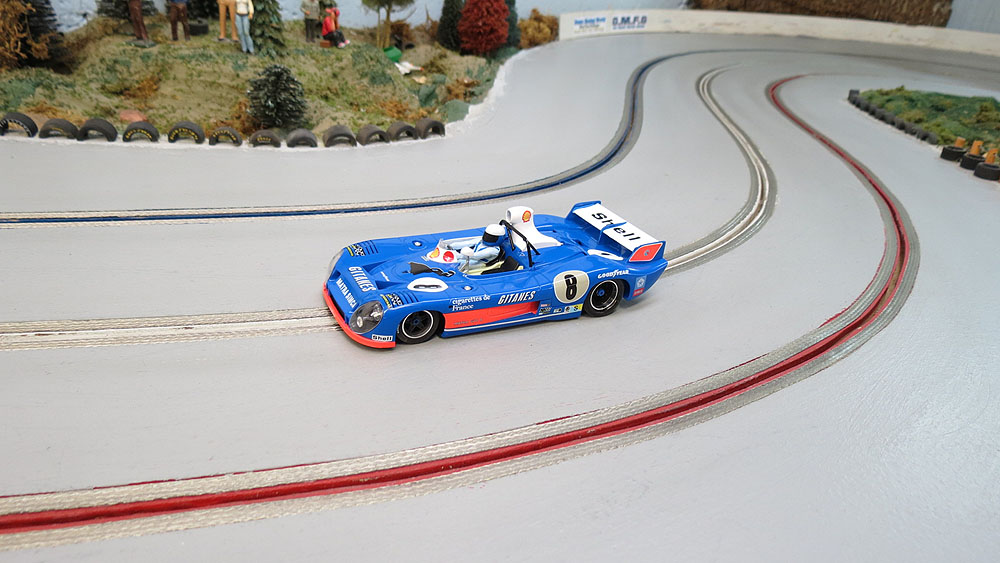 The model ran very well after I tightened the wheels in the rear. As a rule you should always check models like this that come equipped with set screw wheels and gears just to make sure they are tight. Although the stock tires worked well enough, Paul Gage after-market tires are our standard tire and a quick change was in order.
But not just for the Matra. ENTER THE COMPETITION!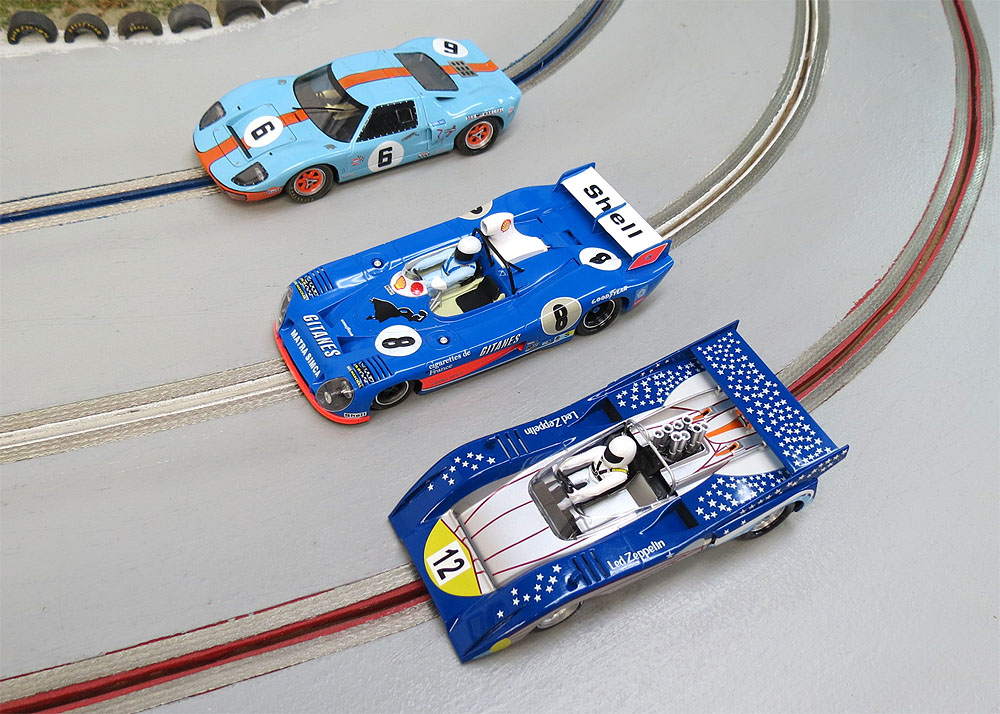 I chose two of the most popular classics we race here, the McLaren and GT40. Each of these models have not been tuned yet so they were perfect candidates.
Each chassis was went through to make sure the front axles was set at the correct height. I used the oval point screws Slot Car Corner carries and they work just fine. The MATRA comes with screws on top but not for the bottom.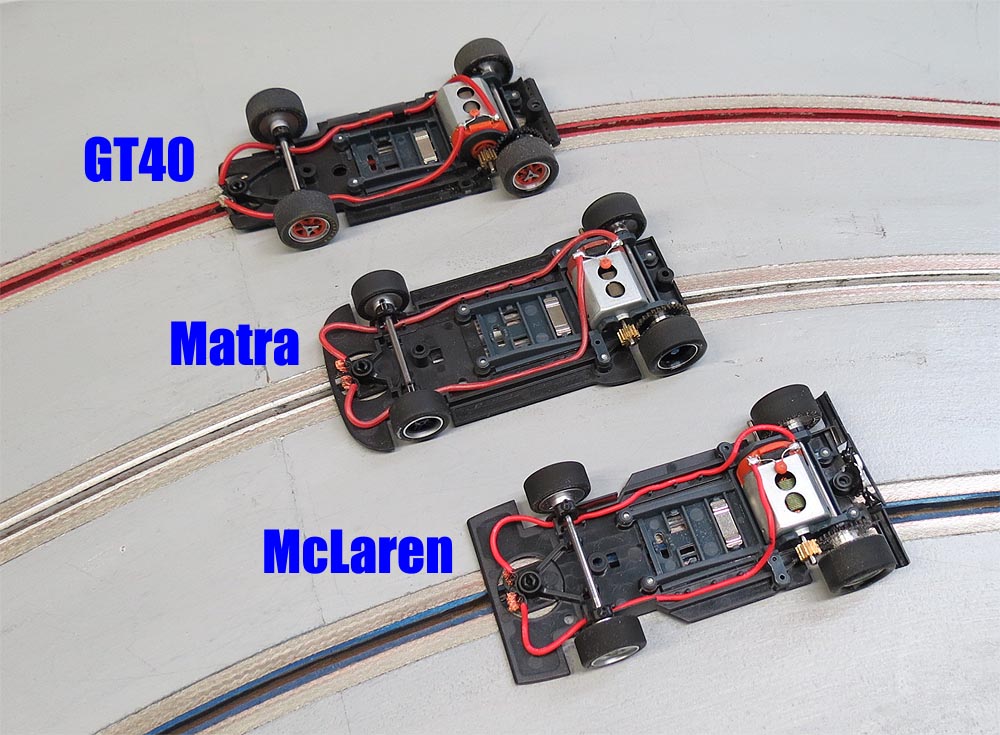 Once this was set I installed Paul Gage XPG 20115 tires on each model. After installation they were trued on the Razor and then re-installed and tested.
Finally I backed off the pod & body screws slightly to allow float. Same amount for each car.No other modifications or weight has been done. My goal was to test each in basic stock format other than a tire change to see if there was an major advantage to either model.
Some people do not bother to actually read reviews. For those that actually do I have a little tidbit to share. It has been reported to me from the slot car grapevine that the Matra is quite possibly one of the fastest classic models Slot.it has produced. However, I need to remind some of you that the reports I am hearing are based on testing on much larger tracks. This will not be the first model I have heard rumors about and then when it arrives here it really is no better or worse than previous models. Performance of a model raced on a modest 4 x 16 home layout that is routed AND non-magnet, is a lot different than on a 16 x 24 Carrera track with full magnet effect and very long straights with matching large, sweeping radius curves.
So with that said, time to get started. First up - GT40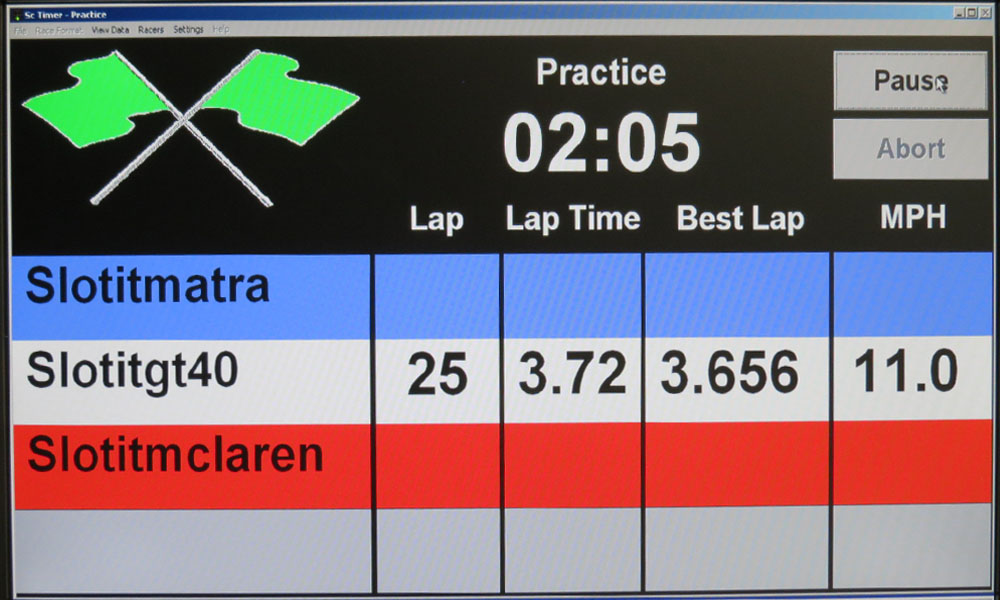 Not bad. Smooth, but a little chatter in the corners.
Now the McLaren.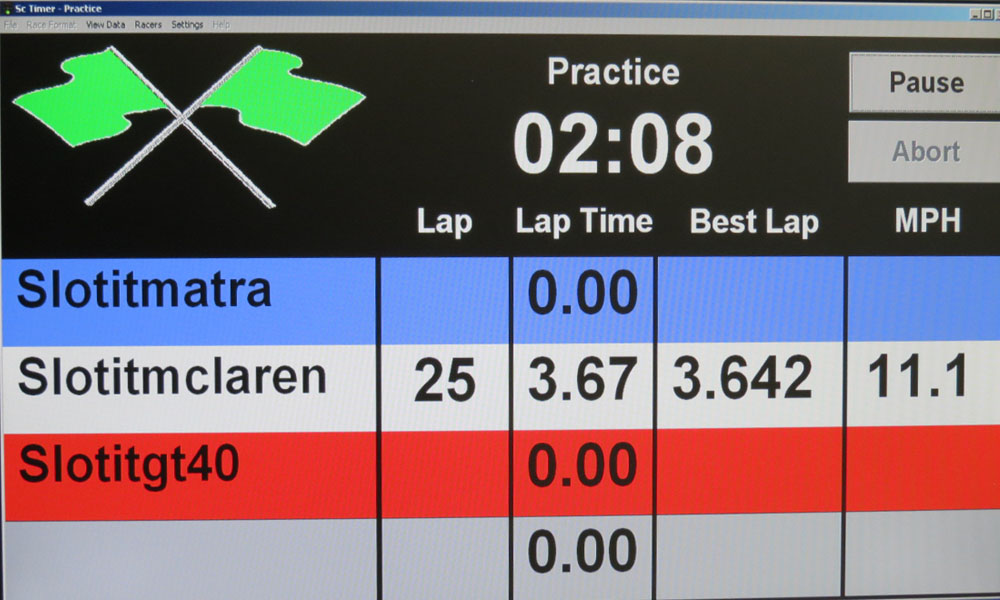 Very close, but just edging the GT40.
And finally our new contender.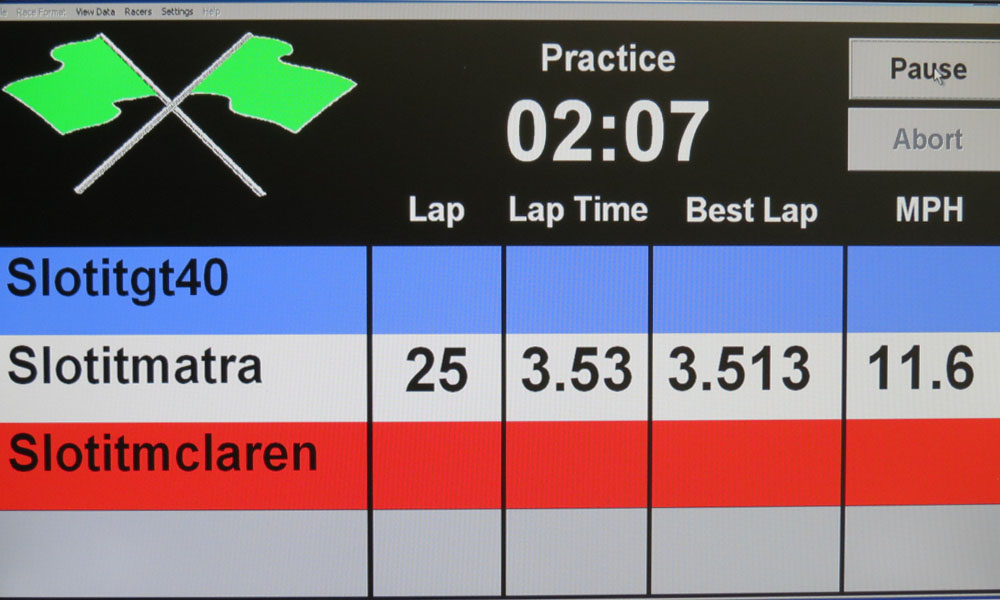 Wow. This car just feels more planted all the way around. As you can see the McLaren and GT40 are really a toss up in terms of times. Just the slightest adjustment or better driver would take the podium. But with this car? This new one seems to have an edge overall.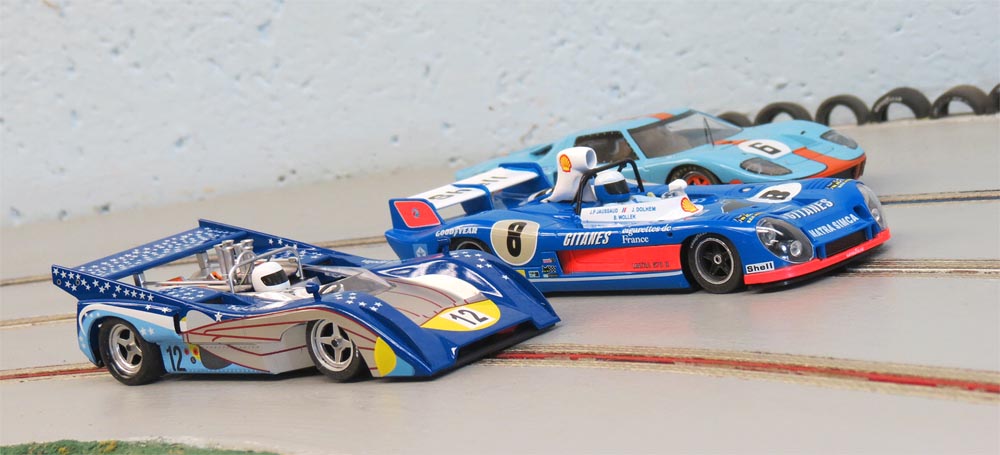 What a lot of fun. And fun is just what I expected when I ordered this car. I did NOT expect it to be as dominant as the rumors were predicting. Of course the final verdict is that each of them are winners and in the right hands, any of them could bring home the checkers. I have seen many victories from slot cars that most say are not competitive because the DRIVER is the real equalizer.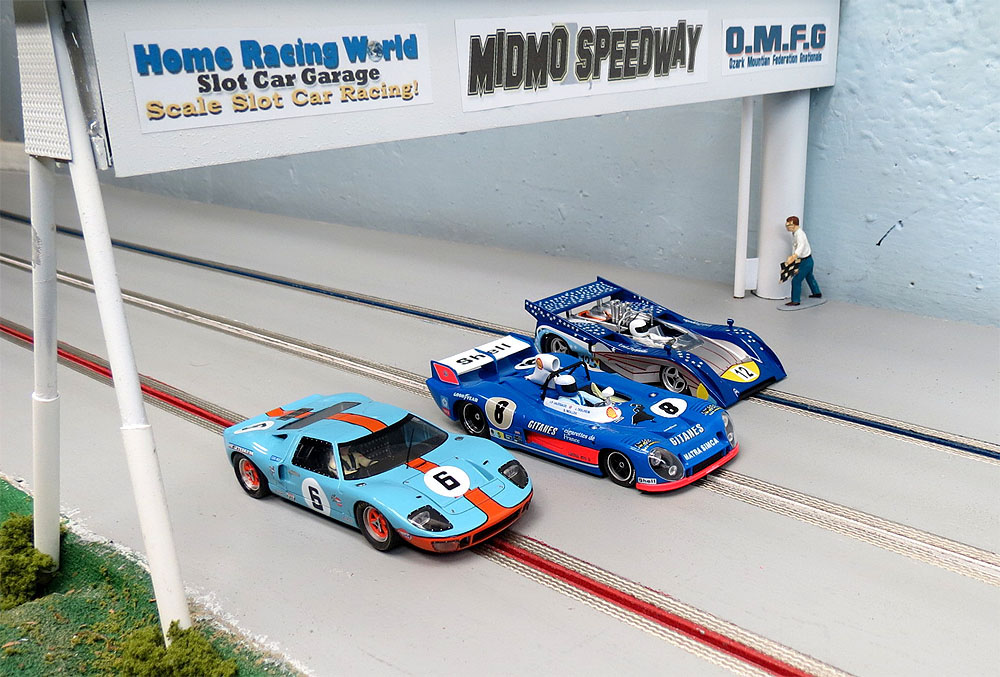 In my opinion Slot.it delivers us a great slot car once again that is all the fun it should be. I am having a great time racing it and I think you will feel the same if you decide to add it to your collection.
-Harry
As always feel free to contact me about this article or just the hobby in general at harry@homeracingworld.com
Better yet, drop into our Message Forum and share your thoughts with other enthusiasts!
Model Purchased from Slot Car Corner

Copyright © 2014 HomeRacingWorld.com All Rights Reserved