Hi everyone,
Some of you already know that Ive been talking about this track like forever. I first posted about it on the old forum, yeah that long ago. Im a slacker, no excuses, time to get this thing done. Ive wanted to build a track based from the move American Graffiti for many years now. Last year I drew up some plans & built the tables for the track. Then life got in the way & have been working on my house. Nothing changed, still working on the house but I need a vacation from it! This track is not for everyone, I get that. I wanted something different, that is not so much focused on racing to win, but just a fun track to drive on. My wife sort of came up with the idea of a 50's track. She is keen to work on the scenery so that makes it more enjoyable to work on something together. Over the past year I have been collecting diorama bits & pieces & have already made a few things from scratch. Ive got loads of cool pieces, carhops, vending machines, burger trays, Menu speaker signs, even Fonzie!
The other reason it has not progressed any further is I want to make sure I get it right. I keep coming up with new ideas etc. So heres my track tables. I wanted it to look like furniture & also match the era of American Graffiti. This is built from MDF, Pine & some wheels from the hardware store. The door hinges & handles are NOS from the 50's.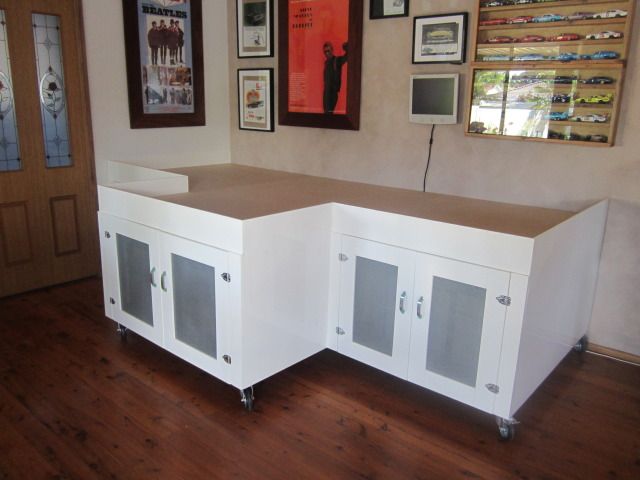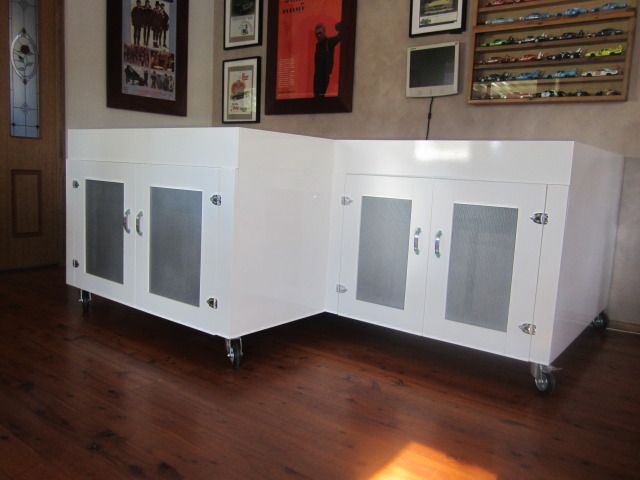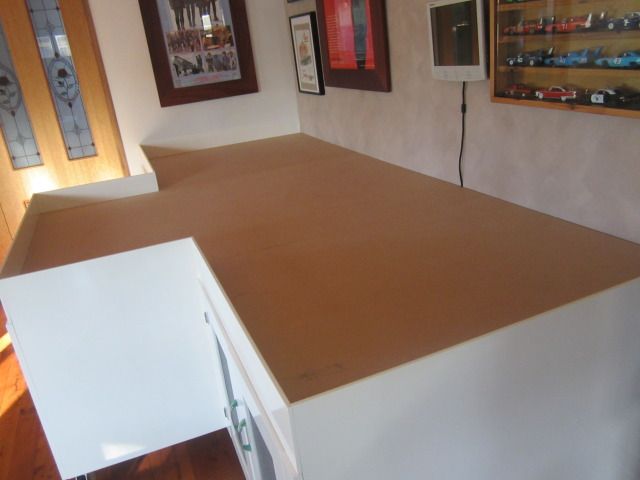 So this track is going to be highly detailed, maybe more of a diorama track. What I want to capture is the cruising down the streets at night. So the track will have loads of buildings & loads of lights, traffic lights etc. Ive only got a small space to work with so Im going to do the best with the space I have. The plan is to extend it in the future when this part is finished. The other reason for the holdup with progress is Mels Diner. Basically the whole track revolves around Mels Diner. So this diner needs to be right. Originally I just drew up the track & made do with a small space for the diner. When I heard Moebius was releasing Mels Diner in a 1/87 model kit I decided to hold off doing any further on my track, so I can see how big the diner is. 2 months later I got the kit. I scaled it up from 1/87 to 1/25. Just the round portion of the diner was 850mm in 1/25 scale, freakin huge. I never realised how big it was. So that kind of turned me off for a few months. So I have come up with the idea to scale the size down but retain the height of a true 1/25 scale building. Its ended up being about 1/43 in width. Yeah wish I had the room but this will work just as well.
Heres a rough template of mels diner I did with paper to see how its going to work.
Im reworking my track design tonight so I will hold off posting a pic of that until I have revised it. If Im happy with my design Ill be routing this weekend. If not the following weekend has been reserved for routing. Cant wait! Stay toned.