S.C.O.T.Y. Awards!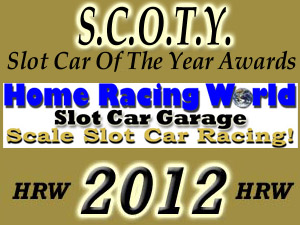 Another year has passed in our great 1/32nd Scale home racing hobby and with it comes our annual picks for the best toys it has to offer. These awards are mainly directed at 1/32nd scale, but we also included awards for the three other scales. From all new models to tools and parts, we try to let you know what the hottest brands are and where you can find them.
So who were the top choices this year? READ ON!
Manufacturer Of The Year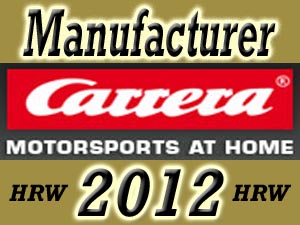 Carrera wins this award hands down. No other slot car company offers so much for so little. The home racing hobby needs a reliable source of products that are affordable and offer great quality. Carrera delivers on both counts and in TWO scales plus digital!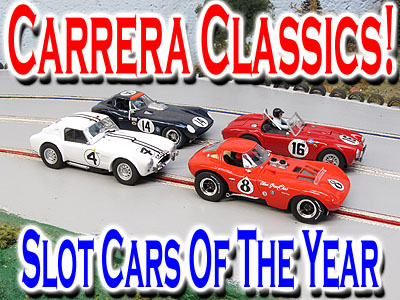 I cannot even pick the best car this year. Carrera has released several winners for our hobby and each one could easily be #1. From the Ferrari 458 to the latest Cheetahs & 289 Shelby Cobras, to re-releases of the Porsche 935/78, Dodge Charger 500 and Plymouth Superbird. In 1/24th scale the release of the Porsche 917K is a major addition.
Racers in the U.S.A. are especially grateful. Having the Classic NASCAR series continued is nothing short of a milestone. Almost a decade of old school oval action and it just got better. The classic sports car series has started this year with two icons of the genre with more to come. Sound exciting? I think so!
Congratulations Carrera. Job well done!
1st Runner Up - Revell/Monogram
For my home racing, the classic NASCAR series is tops. With the releases of the 66/67 Charger along with the Hurtubise and Petty Plymouths, it has been a fantastic year for fans of the series.
2nd Runner Up - Slot.it
Year after year this brand combines the best in performance with a great price for the advanced enthusiasts. Some might disagree of course, but dollar for dollar this brand leads the pack. We saw a new LMP contender plus a new livery of an old favorite to remind us how great this series truly is.
Tops In Tires! - Tie!
The two major types of tires are urethane and silicone. Each has it's own following and these two makers are tops in their own category.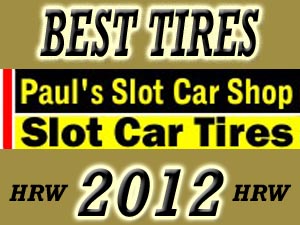 Every great slot car needs a great tire. Along with great customer service, the quality, selection, and scale detail level of these tires are tops in our hobby. We use PG tires on almost all of our own models.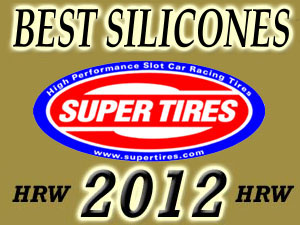 With the new rounded sidewalls, these tires look better than ever on your scale models. Between that and the nearly indestructible blend, these continue to be the choice for many racers worldwide.
Without a doubt, the quality wheels made by C.B. Design are #1. Not only are they made to the highest standards, but the release of the classic steel wheel really set them apart this past year. This wheel has been needed in our hobby for many years and finally it arrived. Combine this with outstanding customer service and Slot Car Corner gets the checkered flag easily.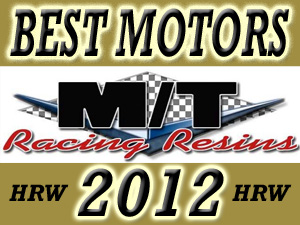 These motors are fast becoming the go to standard for many enthusiasts. Too often we see models arrive with way too much motor, making the car handle poorly. The MT line of motors are the best option for those who enjoy a more classic feel to their models, PLUS they are easy on your budget AND backed up by reliable customer service. No other brand comes close to the value and performance they offer for our models.
The great quality, selection, and attention to detail keep this maker on top. From Trans-Am to Can-Am they offer a lot for the home racing hobbyist and for a fair price. The customer service level is also second to none.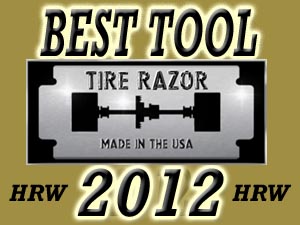 This is still the most often requested tool for your slot car bench. It has saved quite a few wheels in it's day and the customer service is first rate.
We were fortunate to have SCC visit this year and help braid our oval. The new bit and online instructions they have makes it easy for any current wood track owner to convert to braid. We liked it so much we did our road course too!
Once again H&R takes the top spot. With all new wheels and motor options this brand continues to get better and better every year. Easy enough on most budgets and also easy to modify. Still the chassis platform of choice for all of our 1/24 racing here as well as other home racing clubs across the country. The HAWK 18K motor has also been the motor choice for many 1/32nd scale enthusiasts, making this brand even stronger. (This is for scratchbuilding).
This series is fast becoming more and more appealing. The model selection available just gets better every year.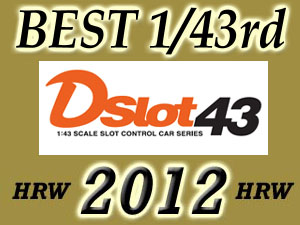 This series has shaken up this scale more than any other brand. I have raced them myself and they very impressive. The Mazda 787 has been said to be the best by the 1/43rd scale experts.
Voted the best place to visit for tuning/scratchbuilding your 1/43rd models.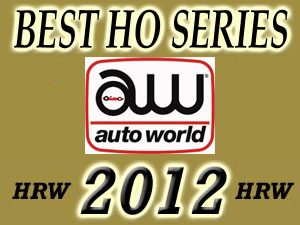 Well it has been another great line up of winners. All of them listed above have been doing great things for us in our great hobby. Make sure you let them know you appreciate what they do when you can. It means more than you might think!
Remember that these are OUR picks.
YOU have your own favorites and we want you to let us know.
Join in the discussion on the new HRW.US!

Copyright © 2012 HomeRacingWorld.com All Rights Reserved